Saudi deputy crown prince in China for trade talks
Eight MoUs were signed between the Council of Saudi Chambers and China Council for the Promotion of International Trade
Saudi Arabia's Deputy Crown Prince Mohammed bin Salman arrived in Beijing on Monday as part of a wider Asia trip that included a visit to Pakistan a day earlier.
The Saudi royal was greeted at the airport by officials from China's Foreign Affairs Ministry, the Chinese ambassador to Saudi Arabia and official delegations from both countries.
The prince is visiting China for talks on economic ties as well as security issues. He will then visit Japan from Aug. 31 to Sept. 3, meeting Prime Minister Shinzo Abe, Japan's Chief Cabinet Secretary Yoshihide Suga told reporters.
Prior to the prince's arrival eight Memoranda of Understanding (MoUs) were signed between the Council of Saudi Chambers and China Council for the Promotion of International Trade and(CCPIT) during China-Saudi Business Forum at Legendale Hotel in Beijing.
One of them related to boosting exchange of data information. Seven others were signed between Saudi companies and their Chinese counterparts.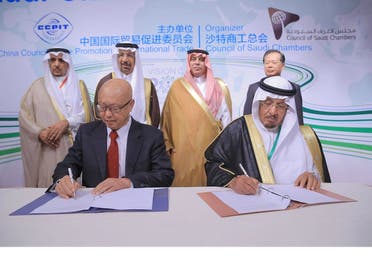 Minister of Commerce and Investment Majid Al-Qasabi said that the agreements were related to energy, technology, services, human resources development.
Saudi ministers also attended the China-Saudi Business Forum.
In April, Prince Mohammed launched radical economic reforms designed to develop non-oil industries in Saudi Arabia and attract billions of dollars of foreign investment. Chinese and Japanese banks and companies are expected to play major roles.
China was the most important trade partner of Saudi Arabia in 2014 with trade exchange reaching SR247.8 billion constituting about 13 percent of the volume of the Kingdom's trade exchange with the entire countries.
(With the Saudi Gazette)