Saudi Arabia, Japan sign 7 MoUs in different fields
Prince Mohammed also discussed strengthening bilateral cooperation between their two countries and the ways to enhance them further
Saudi Arabia and Japan on Thursday took a major step in cementing their relations by signing seven memorandums of understanding (MoU) in various fields including economic and culture.
The signing of the MoUs was overseen in Tokyo by Saudi Deputy Crown Prince Mohammed bin Salman and Japanese Prime Minister Shinzo Abe.
Separately, Prince Mohammed and Prime Minister Abe discussed strengthening bilateral cooperation between their two countries and the ways to enhance them further. International and regional developments also came up for discussion during the meeting.
Prime Minister Abe appreciated the Kingdom's Vision 2030 and expressed his desire to discuss areas of partnership in this regard. He also lauded the leading role of the Kingdom in achieving security and stability in the Middle East, the Saudi Press Agency (SPA) said.
The MoUs the two sides signed include: Cooperation to enhance cultural exchanges through several channels, cooperation to protect copyrights, cooperation in the field of small and medium enterprises and enhancing their competitive ability in global markets, cooperation to produce and maintain energy, investment cooperation in the industrial field, cooperation in the field of international development, investment and exchange of information between Saudi Fund for Development and Japanese Agency for International Cooperation.
The final MoU signed was in cooperation in news field between Saudi Press Agency and Kyodo News Agency.
Infographic: Building strong Saudi-Japan economic trade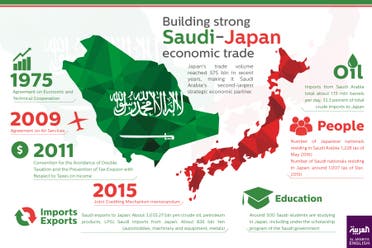 Japanese Prime Minister Abe also held a dinner banquet in honor of the Deputy Crown Prince and his accompanying delegation. During speeches, Prince Mohammed and Prime Minister Abe touched on the historical relations and strategic partnership between Saudi Arabia and Japan and the desire to continue strengthening these relations to achieve the aspirations of the two countries and their friendly peoples.
Later, the "Saudi-Japanese Business Forum — Kingdom of Saudi Arabia's Vision 2030" held a session with the participation of Saudi Minister of Finance Dr. Ibrahim Al-Assaf; Minister Economy and Planning Dr. Adel Faqih, and several Saudi and Japanese ministers.
Hiroaki Ishii, chairman of the Board of Directors of Japan External Trade Organization praised Vision 2030 as a national strategy for transformation in the 21st century. He said the vision meets with the aspirations of Japan in financing of industries and development of facilities. He said Japanese companies have great potential to contribute to this vision.
Infographic: Saudi Arabia & Japan: 60 years of partnership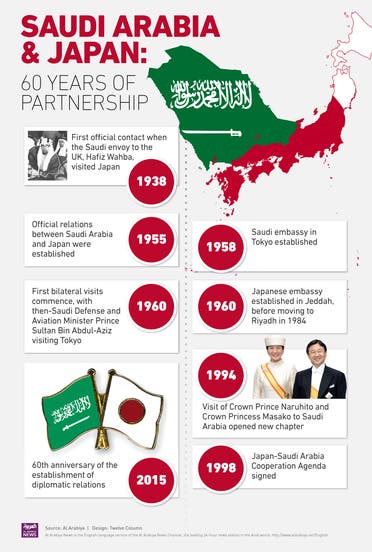 Japanese Minister of Economy, Trade and Industry Hiroshige Seko said his country's relations with Saudi Arabia have been strengthened steadily in the field of economy. The Kingdom is our very important business partner and it is the largest oil exporter to Japan, he said stressing that Japan is also one of the largest exporters of various products to the Kingdom.
Separately, Hiroaki Ishii handed over a booklet titled "Strategic Partners of the Kingdom's Vision 2030" to the Minister of Commerce and Investment, Dr. Majed Al-Qasabi.
This article first appeared in the Saudi Gazette on Sept. 2, 2016.