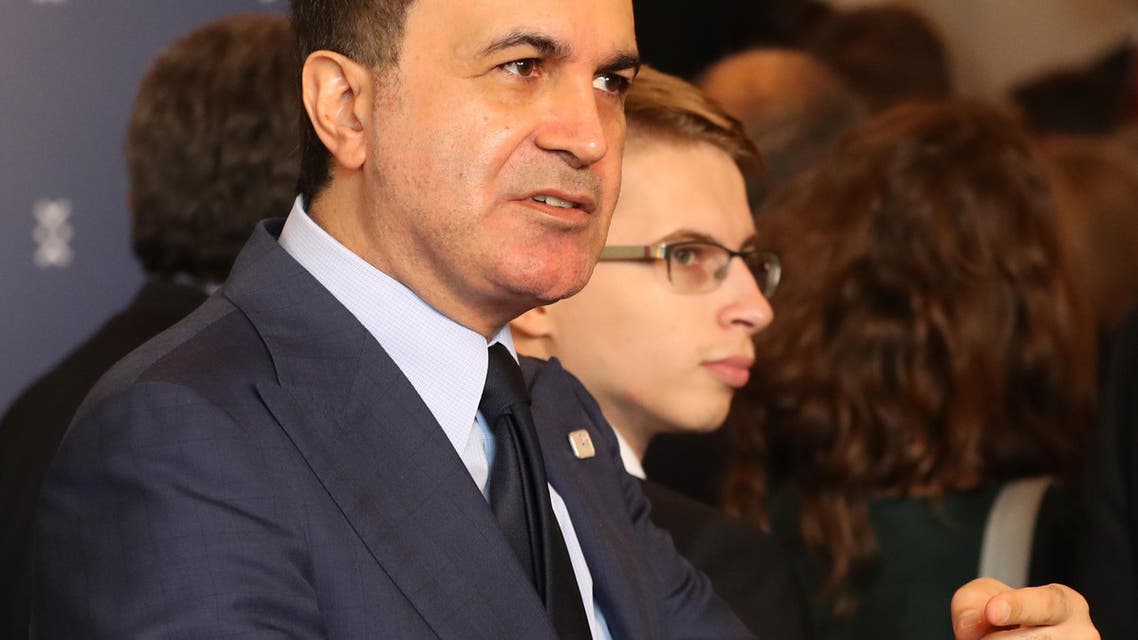 Turkey, EU must work more closely together: Turkey's EU minister
Turkey's EU Affairs Minister Celik said wthout a visa deal, Ankara would not be part of any new arrangement to manageinflux
Turkey's European Union Affairs Minister Omer Celik said on Saturday his meeting with the bloc's 28 foreign ministers had resulted in a "very strong consensus" that they should work more closely after ties soured over a failed coup in Ankara.

Celik, speaking via translation, also expressed Turkey's strong disappointment with the EU's initial reaction to the failed military coup in July.

But he also told reporters after his talks with EU ministers on Saturday: "As a result of the meeting, there is very strong consensus about focusing on a positive agenda and further enhancing cooperation between Turkey and the EU."

Easing EU fears, the senior Turkish official said his country would fully implement its part of a deal meant to keep migrants from Europe's shores even if the European Union refuses to abolish visas for Turkish citizens. But he warned that expanded cooperation on migration depended on that demand being met.

The pledge from Omar Celik after his meeting with EU foreign ministers eased immediate concerns that the agreement now crimping the flow of migrants into Europe was in danger.

Celik said his meeting ended with "very strong consensus about focusing on the positive agenda and to further enhance the cooperation between Turkey and EU."

Still, the talks yielded no apparent indication of substantial progress on relieving tensions that have worsened in the aftermath of the July coup attempt against President Recep Tayyip Erdogan.

Turkey has instituted a sweeping crackdown of wide segments of society since then, sharpening anti-terror legislation to include critical journalists, conducting mass arrests and firings from public sector jobs and flirting with the possibility of reintroducing the death penalty.

The EU sees such moves as contradicting European human rights norms. It says visa-free travel for Turkish citizens is tied to Ankara rolling back its crackdown. With both sides standing firm there had been fears ahead of the meeting that Turkey might retaliate by backing out of the deal committing it to take back migrants from Syria and elsewhere attempting to enter the EU illegally from Turkey.

Celik appeared to banish those concerns. He told journalists that Turkey would "continue to implement" the deal even if its demands on visa liberalization are not met. At the same time, he warned that without a visa deal, Ankara would not be part of any new arrangement to manage what he said were expectations of a greater migrant influx in the future.

"The (migrant) mechanism will not be enough ... so we need a new mechanism," he said. "And if (there is) no liberalization, Turkey will not be very positive in setting up a new mechanism."

He invoked the security problems inherent in Turkey's borders with Syria and Iraq in opposing EU calls for easing its terror legislation, saying "it is not rational to expect from Turkey to make any change in the anti-terror law" as long as radical insurgencies rage in those countries.

"We can make some commitments for the future" on the law, he said, without offering anything specific. Meanwhile, said Celik, the EU should move ahead on visa liberalization.
'Tepid support'
Celik said he also complained at the meeting of slow and tepid expressions of EU support for Erdogan and Turkish democracy in the wake of the coup attempt.

"Faced with a serious attack, the EU sent out a weak message with respect to democracy," he said in comments that German Foreign Minister Frank-Walter Steinmeier said had some merit.

Speaking separately, Steinmeier described EU expressions of empathy and support after the coup attempt as potentially lacking "the necessary form and intensity."

At the same time, he urged Turkey to prosecute those involved in the coup attempt "with moderation and application of the rule of law."

Ankara is also angry over calls by several EU government officials to suspend, or even end, more than a decade of talks on Turkey's entry into the EU, again because of concerns about the state of human rights. Celik said such demands put "the future of Europe into jeopardy."

Ahead of the meeting with Celik, several ministers appeared keen to walk a fine line between pushing Turkey to heed their concerns without further worsening relations.

Linas Linkevicius, Lithuania's foreign minister, called Turkey "very important for the solution of current challenges facing Europe and the world," adding: "There are many, many reasons we have to talk."
Belgian criticism
But Belgian Foreign Minister Didier Raynders pulled no punches in his criticism of the crackdown on wide segments of Turkish society following July's abortive coup.

"When you have seen the number of arrests, the developments in the country, we are worried," he said, expressing particular concern about Erdogan's flirtation with reintroducing the death penalty.

That, he said, would spell "the end of ... (Turkey's) hopes for joining the European Union."
(With Reuters, AP)