Muslims crowd Makkah ahead of Hajj
Pilgrims crowded into Makkah's sprawling, air-conditioned Grand Mosque complex to walk around the Kaaba
Close to 1.5 million Muslims from around the world had descended Thursday on Saudi Arabia for the annual hajj pilgrimage, undeterred by last year's stampede disaster.
As temperatures exceeded 40C (105F), pilgrims crowded into Makkah's sprawling, air-conditioned Grand Mosque complex to walk around the Kaaba -- the black cube that Muslims across the globe face while they pray.
In one of the first rites of hajj, which formally starts on Saturday, white-clad pilgrims take their turn circling the Kaaba in a procession that continues 24 hours a day.
Pilgrims who cannot walk are pushed around the mosque in wheelchairs by workers.
Regularly-spaced taps provide thirsty pilgrims with spring water, and visitors can eat under large fast food signs at a commercial center inside the complex, where they are also able to shop.
But as soon as loudspeakers sound the call to prayer, the shops are shuttered and the faithful line up to worship.
Outside at all the Grand Mosque's entrances, Saudi police control the movement of pilgrims between green plastic barriers.
Step out of line, and a policeman calls through a megaphone to order them back into place.
At prayer time, access to the Kaaba is suspended and the walk around it is stopped to avoid overcrowding.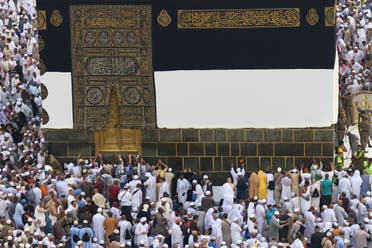 It is one of several safety measures authorities say they have implemented after, according to data from foreign officials, close to 2,300 pilgrims died during the hajj stoning ritual last year.
The stampede and security had been on the mind of a pilgrim from Ivory Coast, who gave her name only as Mrs Coulibaly, 49.
"But since arriving at the airport we have been taken charge of and well supervised. So I feel at ease and totally dedicated to my prayers," she said.
For the first time in almost three decades Iranians will not join the pilgrimage after talks between Tehran and Riyadh on logistics and security fell apart in May.
Iran sent 60,000 pilgrims last year, and claimed the largest number of stampede fatalities, at 464.