Death toll soars after air strikes on Syria's Idlib
Air strikes that hit a market and areas of the rebel-held northwestern city of Idlib Saturday killed 58 people
Air strikes that hit a market and areas of the rebel-held northwestern city of Idlib Saturday killed dozens of people, a monitor said, a day after Russia and the US agreed a truce for Syria.
It was not immediately clear who carried out the raids that also hit several neighborhoods in Idlib and wounded at least 90 people, the Syrian Observatory for Human Rights said.
The initial death toll figure was put at 24, but later soared to 58. But the Britain-based monitor could not immediately confirm how many of the casualties were civilians saying some bodies "were burned beyond recognition".
But according to the Syrian Observatory for Human Rights, the dead included 13 women and 13 children, but it was not immediately clear how many civilians were among the remaining victims.
An AFP photographer in Idlib saw men clambering over rubble, in just slippers or sandals, to help evacuate wounded, dust-covered residents and children from a collapsing building.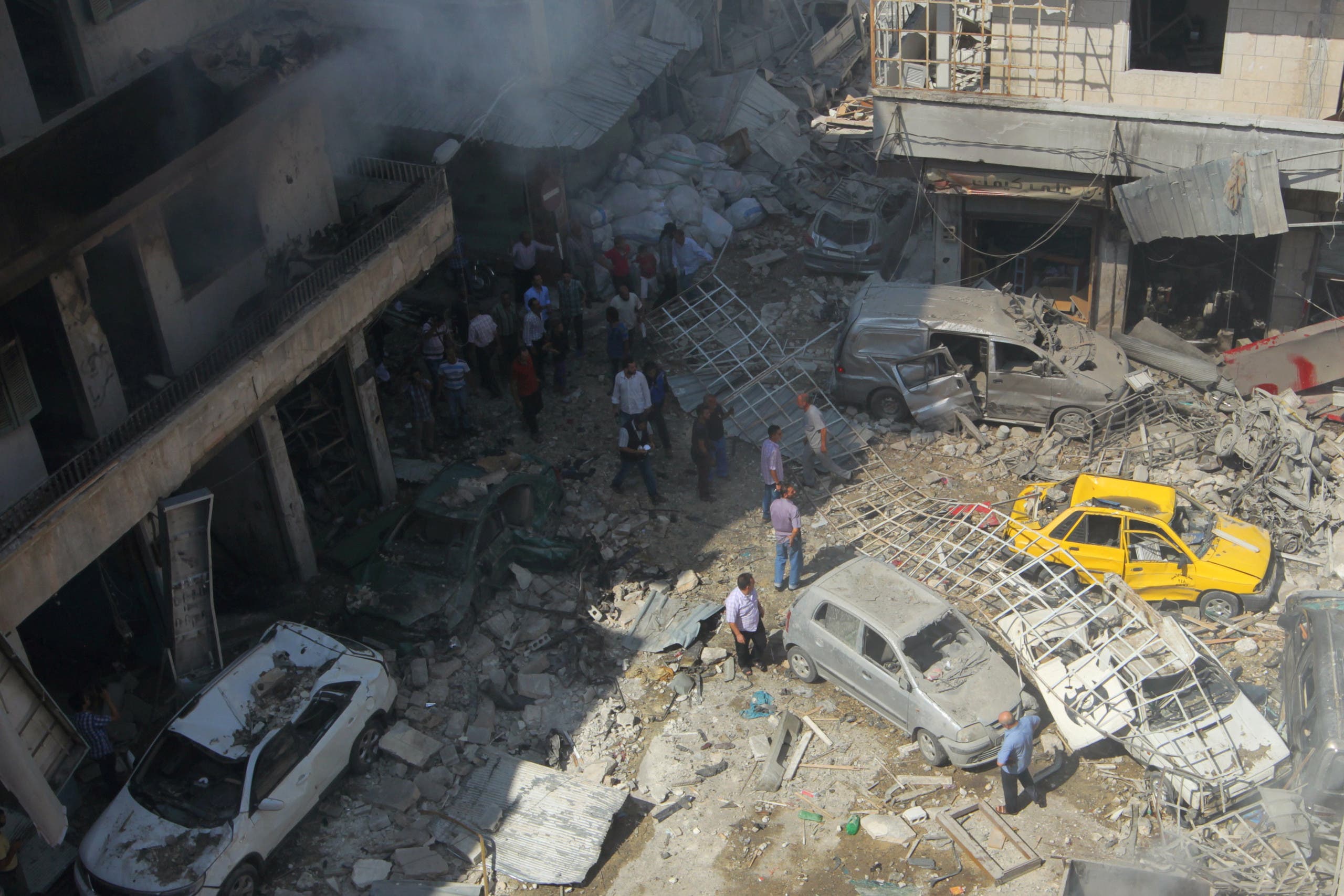 Others tried to lift a bloodied shopper who had collapsed on the ground as a fire raged in a nearby open-air clothes market.
A man, with a head wound, walked away clutching the hand of a barefooted boy. The raids also destroyed several shops and cars in the area.
After marathon talks in Geneva, US Secretary of State John Kerry and Russian Foreign Minister Sergei Lavrov said a ceasefire would begin Monday, the first day of the Muslim feast of Eid al-Adha.
If the deal is implemented, Syria's armed forces would stop air strikes on rebel-held areas and desperately-needed aid would reach war-weary civilians.
UN investigators last week said aerial bombardment by Syrian forces and their Russian ally, namely in Idlib and Aleppo, were causing huge civilian casualties and destroying vital infrastructure.
Since spring 2015, most of Idlib province has been held by an alliance of rebels, Islamists, and jihadists known as the Army of Conquest.
The Army of Conquest - led by the Fateh al-Sham Front, which changed its name from Al-Nusra Front after renouncing ties with Al-Qaeda - is regularly bombarded by pro-government forces.
More than 290,000 people have been killed since Syria's conflict first erupted in March 2011, and several attempts at securing a long-lasting truce have faltered.
Now see the images from Idlib after the bombing raids had taken place - these photos are distressing
(Edited by Al Arabiyua English)