Muslims gather for climax of Hajj pilgrimage
Before dawn on Sunday, Muslim pilgrims from around the world began ascending a hill just outside Makkah where the Prophet Muhammad delivered his final sermon
Before dawn on Sunday, Muslim pilgrims from around the world began ascending a hill just outside Makkah where the Prophet Muhammad delivered his final sermon some 1,400 years ago.

The day spent on Mount Arafat is the pinnacle of the five-day Hajj pilgrimage, which all able-bodied Muslims are required to perform at least once. Muslims spend the day there in deep prayer, many openly weeping as they repent and ask God for forgiveness.

Prayer on this day at Mount Arafat, about 20 kilometers (12 miles) east of Makkah, is believed to offer the best chance of erasing past sins and starting anew. Many Muslims who are not performing the Hajj fast from dawn to dusk on this day, for similar reasons.

Many of the roughly 2 million pilgrims taking part in this year's Hajj will climb a hill called Jabal al-Rahma, or mountain of mercy, in Arafat and spend time there in supplication. It was here where the Prophet Muhammad delivered his final sermon, calling for equality and for Muslims to unite.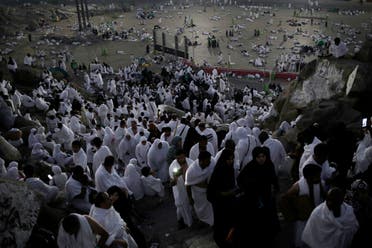 The white terrycloth garments worn by men throughout the five-day Hajj are forbidden to contain any stitching - a restriction meant to emphasize the equality of all Muslims and prevent wealthier pilgrims from differentiating themselves with more elaborate garments.

The day of Arafat is the one time during the hajj when roughly all pilgrims are in the same place at the same time. The site of people from more than 160 different countries, with all the men dressed in simple white garments, is breathtaking.

Egyptian pilgrim Mahmoud Awny said the feeling of being in Arafat is "indescribable."

"All Muslims on Earth wish they could have been here today. Thanks to Allah for enabling me to be here," he said.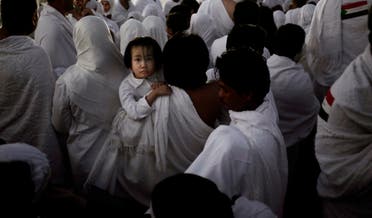 The hajj is a physically and emotionally exhausting experience, and this year temperatures soared to 108 degrees Fahrenheit (42 C) in Arafat. Volunteers passed out water, juice and umbrellas to shade pilgrims from the sun.

Around sunset, the pilgrims will head to an area called Muzdalifa, nine kilometers (5.5 miles) west of Arafat. Many walk the route, while others use buses. They spend the night there, most in the open air huddled near one another, and pick up pebbles along the way that will be used in a symbolic stoning of the devil in Mina, where Muslims believe the devil tried to talk the Prophet Ibrahim - named Abraham in the Bible - out of submitting to God's will.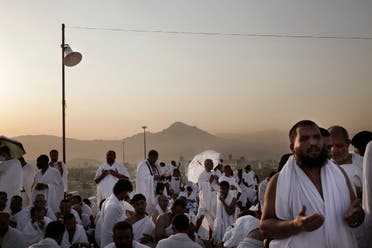 Drones keep watch
Saudi authorities deployed drones to watch over nearly 2 million pilgrims as they ascended Mount Arafat at the climax of the Hajj pilgrimage on Sunday, part of stepped up efforts to avoid a repeat of last year's crush.

In one of the deadliest disasters to befall the annual Muslim rite in decades, the crush killed nearly 800 pilgrims, according to Riyadh.

Chanting "here I am at thy service, O Lord," the faithful climbed the craggy hills outside Makkah where Islam holds that God tested Abraham's faith by commanding him to sacrifice his son Ismail and the Prophet Mohammed gave his last sermon.

"I have prayed to God to have mercy on us, give us relief and resolve Syria's crisis," said Um Fadi, wearing a traditional long black embroidered dress and head scarf native to her home in southern Syria.

"From the bottom of my heart, I pray that God will lift this agony from Syria and its people," she added.

Saudi Arabia has said that 1.85 million pilgrims, most of them from outside Saudi Arabia, have arrived for the annual pilgrimage, a religious duty for every able-bodied Muslim who can afford the journey.

Saudi Arabia stakes its reputation on its guardianship of Islam's holiest sites and organizing hajj.

The 2015 crush, in which two large groups of pilgrims arrived together at a crossroads in Mina, a few kilometers east of Makkah, on their way to performing the "stoning of the devil" ritual at Jamarat, was the worst disaster to strike the annual pilgrimage for at least 25 years.

The Saudi authorities redesigned the Jamarat area after two stampedes, one in 2004 and one in 2006, killed hundreds of pilgrims, and the frequency of such disasters has greatly reduced as the government spent billions of dollars upgrading and expanding Hajj infrastructure and crowd control technology.

The Hajjj ministry has said it had prepared a strict timetable for pilgrims from various countries to follow when leaving and returning to their accommodation.

Authorities have also deployed drones to reinforce a network of electronic surveillance of the crowds that would alert authorities to intervene quickly if necessary.

Saudi state news agency SPA said that Crown Prince Mohammed Nayef bin Abdul-Aziz, who is also the interior minister, supervised oversight as pilgrims used buses, trains and private cars to move from their encampments in Mena to Mount Arafat.

So far, things have proceeded smoothly, SPA added.

The pilgrims will spend the day on the mountain and move by sunset to the rocky plain of Muzdalifa, where they will gather pebbles to stone columns symbolizing the devil at another location called Jamarat on Monday, which marks the first day of Eid al-Adha (feast of sacrifice).