Jordan's king dubs country's elections as 'achievement'
Around 4.1 million voters – from a population of 6.6 million – are to pick 130 lawmakers from 1,252 candidates for a four-year mandate
Amid regional turbulences, Jordanian King Abdullah dubbed his kingdom's parliamentary elections which ended in the same day on Tuesday as "achievement."
"As I stand here today, elections to Jordan's national parliament are coming to a conclusion," the king said during his address at the United Nations General Assembly (UNGA) in New York. "It is one more step on our country's positive, evolutionary path – a path to which we have insistently conformed, despite regional turbulence and a massive refugee burden."
He added: "It represents an achievement that is largely credited to our citizens – especially our young people – who have stubbornly held on to Jordan's heritage of unity, strength, and forward-looking spirit in spite of the odds. And it is these very odds that make these elections a true triumph of progress over regression."
Jordanians went to polling stations in a vote that could see opposition Islamists re-emerge as a major parliamentary force in the kingdom, following boycotts in two previous elections.
Around 4.1 million voters – from a population of 6.6 million – are to pick 130 lawmakers from 1,252 candidates for a four-year mandate.
The polls are opened at 7:00 am (0400 GMT) and are set to close 12 hours later. Seats have been set aside for 15 women, nine Christians and three representatives of the Circassian and Chechen minorities. Businessmen and tribal officials loyal to the monarchy are expected to emerge the biggest winners.
Earlier in the day, there were reports of confusion as local media and observers were not allowed into the polling stations.
"Media members and local observers were not allowed to enter in a big number of the stations at the beginning of the day but the Electoral Commission headquarters immediately to cooperate," Mohammed Hussainy, head of Jordan Reform Watch and Integrity Coalition for Election Observation, told Al Arabiya English.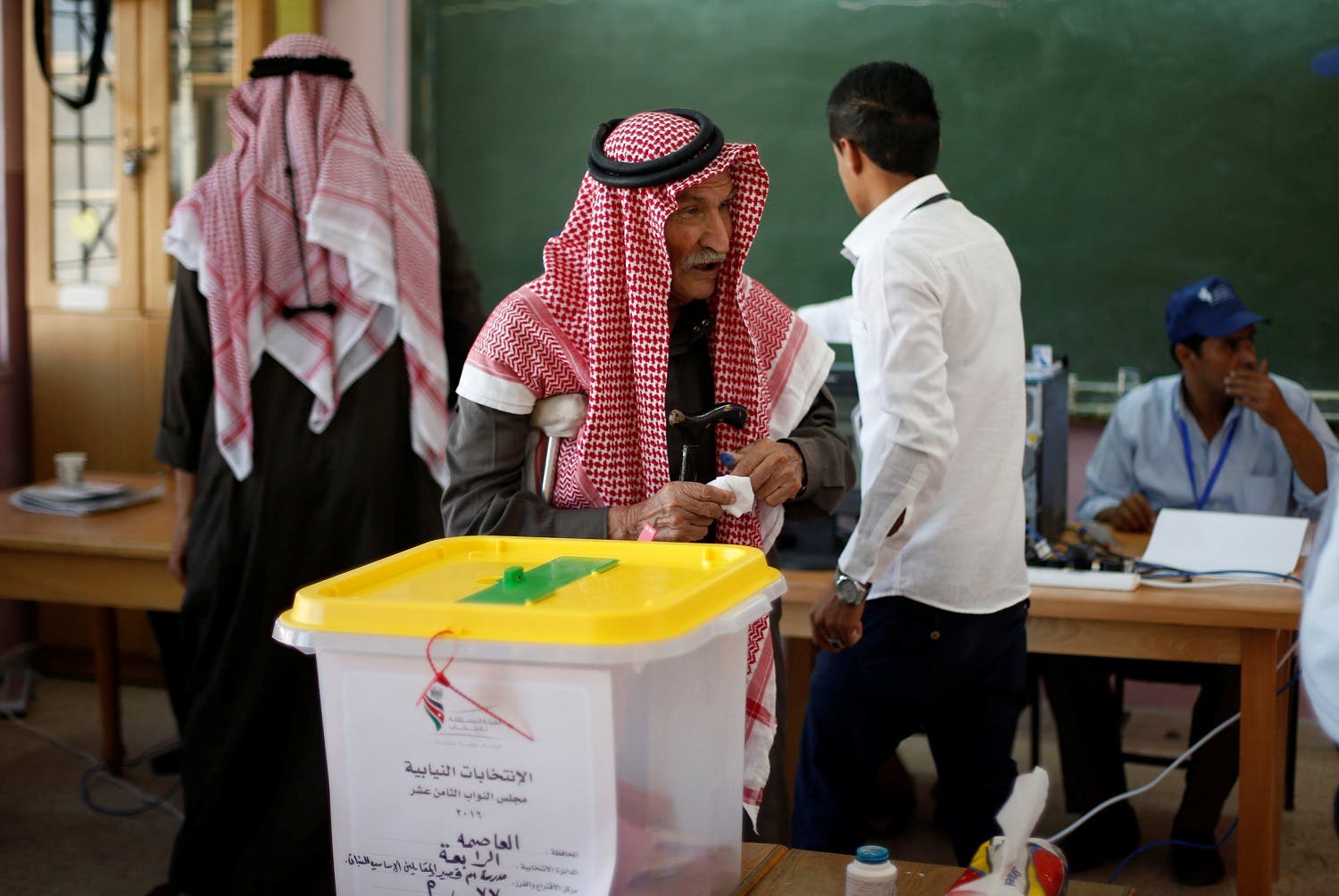 There minor elections violations according to Hussainy of minor violence and isolated cases of people voting in pubic but that the majority of stations were peaceful as of the afternoon.
Jordan's electoral commission head said the polls would be conducted in accordance with international standards. The polls will be monitored by 14,000 local observers and 676 from abroad, including 66 sent by the European Union.
Islamic-Christian alliance
Jordan made significant changes to its electoral law this year, replacing a controversial one-person-one-vote system with a list-based system designed to encourage political parties.
The Islamic Action Front, the political arm of Jordan's Muslim Brotherhood, is part-taking in the vote on Tuesday after boycotting the polls in 2010 and 2013 in protest at the electoral system and allegations of fraud.
The recent change to the election law sought to the national-level proportional seats and create a new district-level proportional system based on local electoral alliances. There will be 130 seats (115 assigned to districts in addition to 15 for the women's quota). For each district, voters are to first choose a list and then have the option of voting for one or more candidates on said list.
Because of that, some lists in districts have created alliances of both Muslim and Christian candidates vying for people's vote – considered by some a first for Middle Eastern politics.
But Hussainy says that there are no expectations of political impacts in doing so.
"It is just an electoral tactic and will have no real impact on the political scene in Jordan during the election nor after. The majority of the lists were formed either on tribal or personal coalitions," Hussainy said.
The vote comes as Jordan wrestles with high unemployment, fears of a spillover from the wars in neighboring Syria and Iraq and the burden of hosting hundreds of thousands of refugees.
Unemployment reached 14 percent, according to official figures, while independent analysts estimate the figure is between 22 and 30 percent, in a country where 70 percent of the population is aged under 30.