Aid reaches starving families in Yemen's Hudaydah
The aid comes after shocking images of malnourished mothers and their emaciated children emerged earlier this month
A convoy of trucks carrying humanitarian aid arrived Monday at Yemen's western province of Hudaydah, where there is widespread starvation among the population.
Mona Relief, a Yemeni aid organization run by volunteers, told Al Arabiya English that convoys began delivering aid to 200 families in the al-Tuhita area in Hudaydah on Sunday, providing urgently needed basic supplies.
The aid comes after shocking images of malnourished mothers and their emaciated children emerged earlier this month.
"Al-Tuhita in al-Hudaydah has registered the largest number of malnutrition cases," Dr. Riaz S. Karim, co-founder of Mona relief, told Al Arabiya English.
Every family is given a package of 50kg wheat, 10kg rice, 10kg sugar and cooking oil enough to last a month.
"Our campaign in Hudaydah started yesterday targeting 200 families there, and it will continue for a month. We are planning to target almost 5,000 families living there," Fatik al-Rodaini, founder of the humanitarian organization, said.
The aid group has been working since May 2015 to tackle issues of food security and child protection in war-torn Yemen.
The images emerge as the UN Security Council called on all parties in the Yemen civil war to halt all military activity and abide by the terms of a Cessation of Hostilities agreed upon in April.
The council said in a statement issued earlier this week that the humanitarian situation will continue to deteriorate in the absence of a durable peace agreement and urged all parties to resume talks with Special Envoy of the UN Secretary-General for Yemen, Ismail Ould Cheikh Ahmed.
The ongoing war in Yemen has plunged the country into a serious humanitarian crisis, with hundreds suffering from famine and malnutrition.
With the lack of food coupled with high prices, many are left with little choice but to resort to eating leaves.
Meanwhile, the United Nations World Food Program (WPF) warned that "at least seven million people - a quarter of the population - are living under emergency levels of food insecurity."
Families receiving aid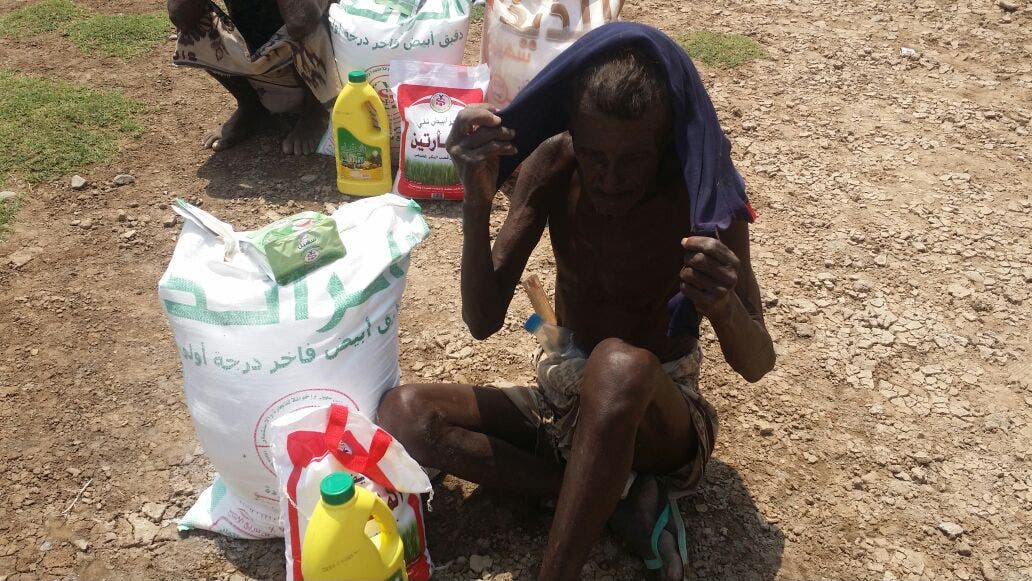 It is a crisis that has deepened since the civil war broke out, and according to WFP there has been a 15 percent increase in hunger during the past year. The WFP further warns that another 7.1 million people are ready to fall into hunger if the situation does not improve. In 19 of the 22 governorates of Yemen, many are experiencing severe hunger.
The UN has also repeatedly criticized Houthi fighters and their allies for blocking the delivery of desperately needed humanitarian supplies to areas such as Taiz, Yemen's third-largest city.