Deadly explosion targets residential area in Aden
A suicide bomber targeted a residential area in Aden, killing at least one civilian and wounding others
A suicide bomber targeted a residential area in Yemen's port city of Aden on Saturday, killing at least one civilian and wounding others.
Only scant details have emerged about the suicide bombing which took place in the Crater district. However, residents who were close to the site of the explosion said that a speeding car approached the area, where a young man appearing to be in his twenties was thrown out and detonated himself shortly after.
According to witnesses, the man was shouting that he was going to explode just before the detonation which happened after less than a minute.
The man had shouted "run, run" to bystanders when he left a vehicle in the Crater district of the city, a local government official said.
It was unclear whether he had intended to blow himself up and had second thoughts or had been forced to wear an explosives vest which was then detonated by someone else.
Security sources have not yet been able to confirm who was behind the attack.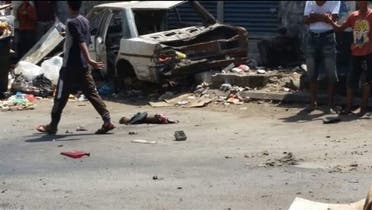 Aden is the headquarters of Yemen's Saudi-backed government. The capital Sanaa and much of the north of the country are controlled by Shiite rebels and their allies.
The southern port city has been hit by frequent bombings claimed by militants of al-Qaeda or the ISIS group.
The insecurity prompted the cabinet to move to neighbouring Saudi Arabia last year only returning on September 22.
(With AFP)