Abbas's farewell to Israel's Peres stirs controversy at home
Mahmoud Abbas took a front-row seat at the funeral and shook hands with Israeli Prime Minister Benjamin Netanyahu
Palestinian President Mahmoud Abbas is feeling a backlash at home over his attendance at the funeral of Israeli statesman Shimon Peres, who shared a Nobel prize for interim peace deals with the Palestinians.

In Arabic postings on social media, critics of the Western-backed Abbas have focused on a view of Peres's legacy that jars with his world acclaim as an architect of the landmark Oslo accords in the 1990s.

Peres, a former prime minister and president, died on Wednesday at the age of 93. He was buried in a state ceremony in Jerusalem on Friday attended by US President Barack Obama and dozens of dignitaries from around the world.

But the president of Egypt and king of Jordan, leaders of the only Arab countries to have signed peace treaties with Israel, stayed away, while Abbas's main political rival, the Hamas Islamist group that runs the Gaza Strip, condemned his participation as having betrayed Palestinian principles.

In the Arab world and social media, much mention was made of the 1996 Israeli shelling, when Peres was prime minister, of a UN compound in the village of Qana in south Lebanon.

More than 100 civilians sheltering there were killed during an Israeli offensive against Hezbollah guerrillas. Israel said its forces had been aiming at militants firing rockets nearby.

In the Israeli-occupied West Bank, a senior Palestinian security officer, Lieutenant-Colonel Osama Mansour, was arrested on Saturday after he criticized Abbas on Facebook.

"If that was your decision to take part in the funeral of the killer of our children, you were wrong. And if you made the decision on the recommendation (of your advisers), you were misled," Mansour wrote.

Peres built up Israel's powerful military and nuclear might in the 1950s and 1960s and, as defense minister in the 1970s, backed the expansion of settlements in territory that Israel took in a 1967 war and which Palestinians now seek for a state.

Israel set up a system of military checkpoints and clampdowns to protect the settlements and prevent attacks inside Israel, and ongoing conflict over the decades since has led to deaths of civilians on both sides as well as militants.

At the funeral, Abbas took a front-row seat - Palestinian officials said Peres's family invited him - and shook hands with Israeli Prime Minister Benjamin Netanyahu.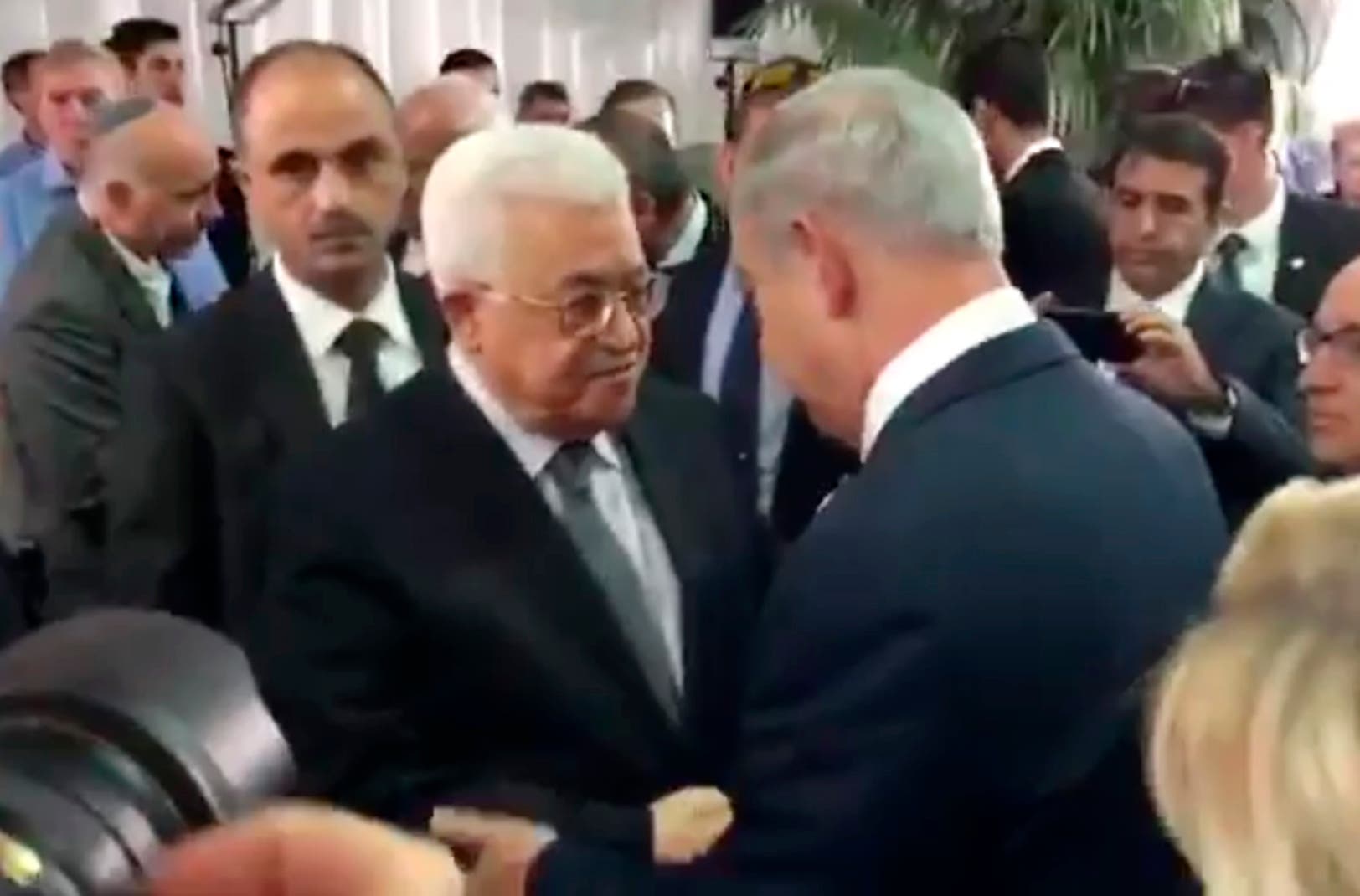 It was the president's first visit to Jerusalem since 2010. But with peace talks with Israel frozen since 2014, there was no indication anything would come of the handshake and the few pleasantries Abbas and Netanyahu exchanged in the cemetery.

The brief encounter drew largely positive headlines in Israel, but any political impact was muted by the onset at sundown on Friday of the Jewish New Year holiday.

Anger continued to echo, however, among Arab critics.

"Stay there, don't come back," Palestinian blogger Ali Qaraqea told Abbas in a Facebook video that had 345,000 views and 3,800 shares by Monday.

However, commentator Bassim Barhoum, writing in the Palestinian Authority-run daily newspaper Al-Hayat Al-Jadida, said Abbas had sent a message of peace to the world.

Netanyahu and far-right members of his cabinet "would have beat the drums and said he was not a partner for peace", had he not attended, Barhoum said.