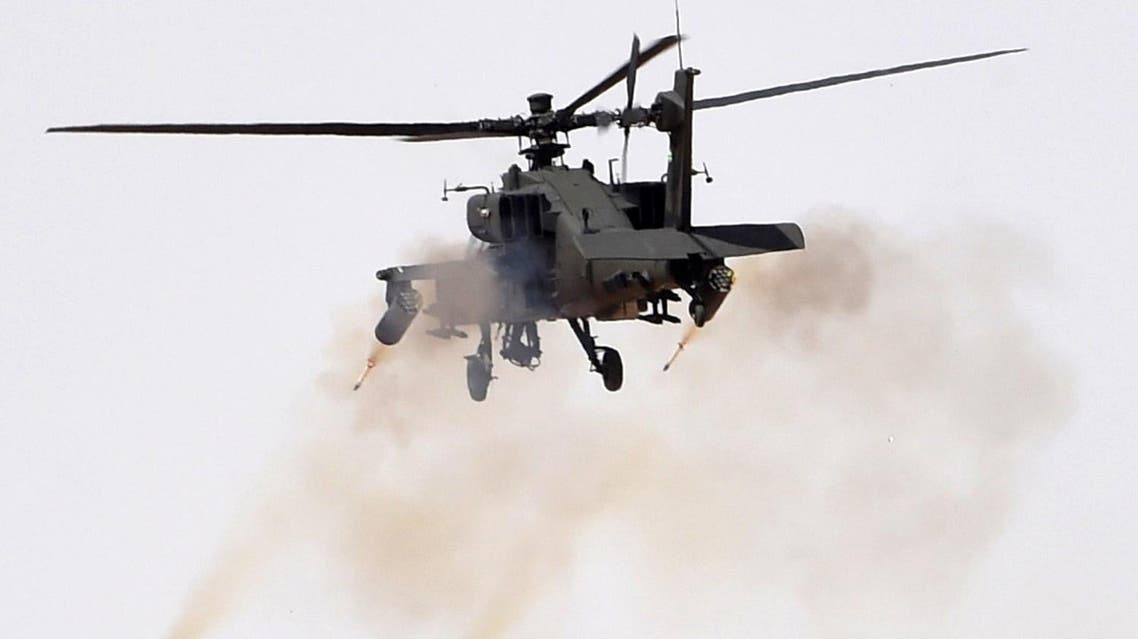 Saudi airstrikes kill dozens of militias near Jazan
Saudi Apache helicopters killed dozens of Houthi militias and Republican Guard officers – who are loyal to deposed President Saleh
Saudi Arabia's Apache helicopters killed dozens of Houthi militias and Republican Guard officers – who are loyal to deposed President Ali Abdullah Saleh – in targeted air strikes on Thursday at the border near the southwestern Saudi province of Jazan.
Saudi forces also repelled an attack by militias off the Yemeni border, an Al Arabiya News correspondent reported, which targeted Asir region, south of Makkah.
The Apache attacks come after a Houthi rocket landed on Wednesday in Jazan and injured a Yemeni resident in al-Tawal village.
Saudi Arabia has been ramping up counter-attacks in recent days after militias launched several cross border rocket attacks.
Clashes in Taiz
Meanwhile, six Houthi militants and their Saleh allies were killed and 13 wounded in clashes with the Popular Resistance – who are backed by Abd Rabbuh Mansur Hadi's government – in the western province of Taiz, south of Yemen's capital Sanaa.
Yemen's government led by Prime Minister Ahmed Obeid bin Daghr returned to Aden from exile in Saudi Arabia last month.
Hadi and his cabinet fled to Saudi Arabia, which led a Saudi-led Arab coalition against the Houthis in March 2015. After 18 months of fighting, the Houthis and their allies control most of the north - including the capital Sanaa - while forces loyal to Hadi and the popular resistance control the south.
Major setbacks
A year and a half into Yemen's ongoing war between the Saudi-backed government of Hadi and Iran-backed Houthi militias have caused several loses on both sides, however recent months have seen the Houthi movement suffer major setbacks after the deaths of senior militia leaders.
Military analysts consider the formation of a national salvation government by the militias as a response to the crisis caused by their losses, AlArabiya.net reported.
READ MORE: List of the senior Houthi members that were killed in the months of August, September and October.
*A version of this article was first published on AlArabiya.net.