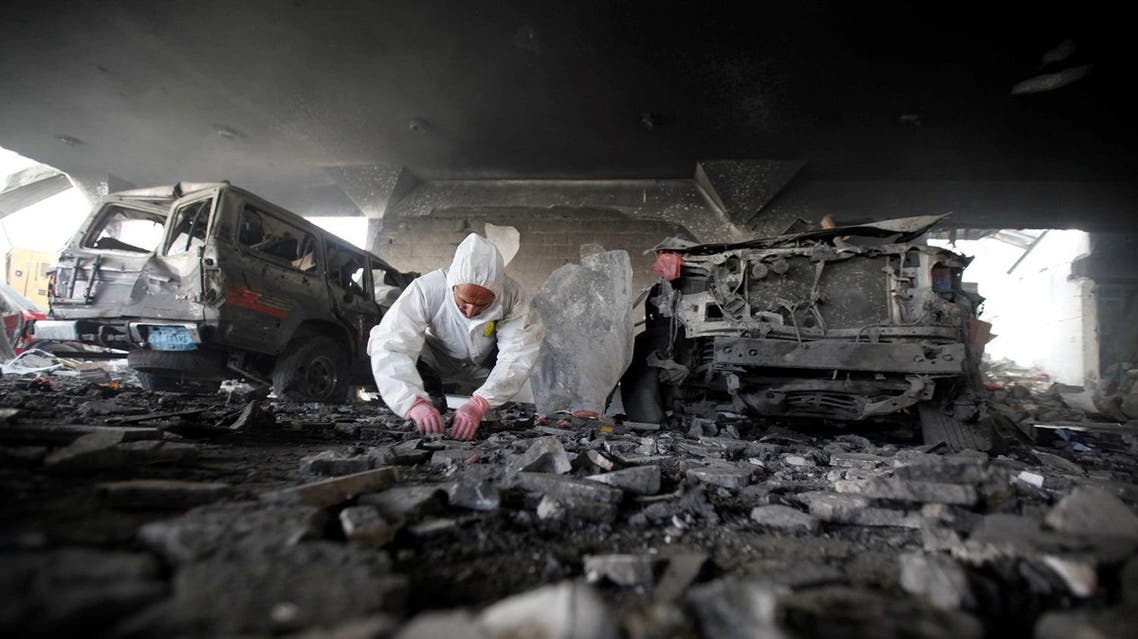 Houthis attempt to clean up funeral blasts site
The news comes following the victims' families and tribes releasing a statement calling the strike a 'conspiracy'
Tribal leaders and family members of the funeral home attack have stopped Houthi militias from lifting up debris of the strike that killed more than 80 people.
Yemeni sources confirmed that Houthi militias issued directives to quickly remove the debris and aftermath of the strikes that targeted a funeral hall in Sanaa on Saturday before the arrival of any investigative teams.
The news comes following the victims' families and tribes releasing a statement calling the strike on the funeral a 'conspiracy' and urged for calm and restrained pending further investigations.
Sources close to Al Arabiya News Channel say more than 80 people were killed in the strikes, among them Sanaa's mayor Abdul-Qader Hilal and a senior figure in the ouster former president Ali Abdullah Saleh's party.
Houthi senior figures were also confirmed killed during the attack, among them Mubarak al-Zaydi, a member of the Houthi militias' political office.
Denial
There was no Arab coalition air role in a strike in Sanaa on Saturday, sources in the Saudi-led coalition said.
"Absolutely no such operation took place at that target," one of the sources said, citing what he described as confirmation from the coalition air force command.
"The coalition is aware of such reports and is certain that it is possible that other causes of bombing are to be considered. The coalition has in the past avoided such gatherings and (they) never been a subject of targets."

*This article also appears in Arabic on AlArabiya.net.