Trump: Iran benefits most from Mosul operation
Republican presidential nominee Donald Trump and Democrat Hillary Clinton went head to head in the third and final debate
Republican presidential candidate Donald Trump said that Syrian refugees are in many cases "definitely" aligned with ISIS at the third and final United States presidential debate at the Univeristy of Las Vegas Wednesday night.
Among the topics discussed were the Syria crisis, the Mosul operation, Iran and ISIS.
Democratic candidate Hillary Clinton says she won't allow refugees into the US who haven't been "vetted."
In the case of Mosul, Trump asked "what happened to the element of surprise?" after the operation being announced and spoken of largely in the media, also calling the onslaught a consequence of Clinton's presidential run. Clinton has ruled out US deployment in Iraq after Mosul operation.
"You know who is big winner in Mosul is going to be after we eventually get it?" Trump said.
"Iran. Boy are they making — I mean, they are outsmarting."
When asked on Syria and Aleppo, Trump stated that Syrian President Bashar al-Assad is smarter than Clinton and US President Barack Obama.
Clinton said that establishing a no-fly zone over Syria could save lives and quicken the end of the conflict.
The republican candidate also accused the United States of making Iran very powerful.
When the topic of Trump's sexual assault accusations rose, the republican nominee blamed the Obama and the Clinton campaign of starting these accusations and inciting violence at his rallies.
Trump accused Clinton of wanting to give amnesty to illegal immigrants, claiming there are "some bad hombres" in the US, while Clinton retorted stating she doesn't want to rip families apart, stating that giving undocumented immigrants legal status will improve the economy.
The republican candidate said "we are going to stop radical Islamic terrorism in the US."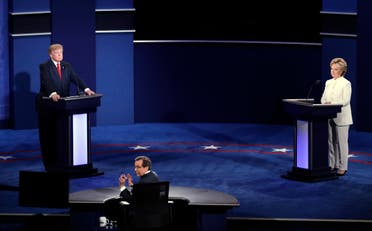 Trump has been damaged recently by several accusations of groping women - which he denies - and concerns about his claims that the election will be rigged against him.
Among the controversies tonight was Trump's refusal to say whether or not he will respect the election results, as well as calling his opponent a "nasty woman."
The debate at the University of Las Vegas Nevada gives the New York businessman perhaps his best remaining chance to sway the dwindling number of Americans who are still undecided about which way to vote in the Nov. 8 election.
Many Arab-Americans have tuned in to the debate, and weighed in on the matter.
"I think that no matter the outcome of the presidential elections, the real danger of any of the two candidates is that they now provide indirect justification for bigotry on the one hand, and escape from accountability on the other, in the day to day lives of average Americans." Lebanese-American Ramzi Alieh, a student who lives in New York, told Al Arabiya English.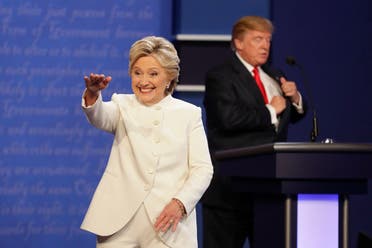 "Well, Hillary Clinton was definitely more equipped per usual for the debate. Trump seemed a little calm and collected at the beginning, but eventually lost his temper as it became clear that Clinton was able to support her case for the selection of justices, fitness for presidency, as well as border security laws," Syrian-American Luna, who resides in New York, told Al Arabiya English.
"She's hasn't done a fantastic job answering questions regarding the hacked emails and I personally think that, alongside her foreign policy and economic policy are her main flaws," she continued.
"Trump was right about Iraq when she said they gonna be freeing Mosul from ISIS but he answered was after liberation of Mosul it will under the Iranian control," Michigan based Arab-American Nedal Tamer told Al Arabiya English.
"He was right when he told her Russia & Iran had control of Syria and he's was right when he told her you created the vacuum in Iraq when you pulled the troops and that's how isis created and now after liberation Iran will be in control after they release large amount of money to the Iranians," he continued.
Republican strategist Charlie Black said before the debate that "this one [debate] is important if Trump is going to have any chance to get back into this race."
"He's going to have to talk about issues effectively and not get down in the mud, and he needs to talk about jobs."
Trump campaign manager Kellyanne Conway acknowledged that her candidate went into the debate as the underdog.
"It's a comeback and he's done it before several times in this campaign," Conway said on Fox News, adding a jibe at Clinton: "Hillary Clinton just has not been able to put him away. What is her problem already?"
(With Reuters)