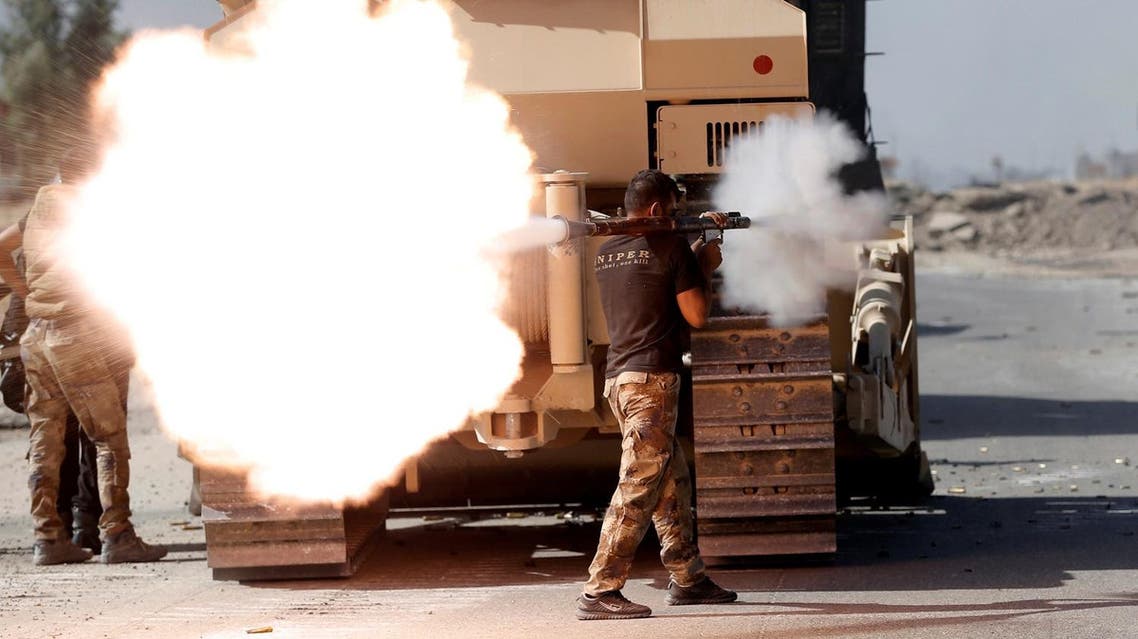 ISIS uses tens of thousands as 'human shields'
The UN human rights office said ISIS 'depraved, cowardly strategy' is to use civilians to render certain points
ISIS appears to be using tens of thousands of people as "human shields" in and around Mosul, where Iraqi forces are waging a large-scale offensive aimed at retaking the country's second largest city, the UN human rights office said Friday.
It has received reports of more than 200 people being killed for refusing to comply with ISIS orders or previously belonging to Iraqi security forces. It said "credible reports" suggest ISIS has been forcing tens of thousands from their homes in districts around Mosul.
"ISIL's depraved, cowardly strategy is to attempt to use the presence of civilian hostages to render certain points, areas or military forces immune from military operations, effectively using tens of thousands of women, men and children as human shields," spokeswoman Ravina Shamdasani said in Geneva.
She said 232 people, mostly former officers, were reportedly shot Wednesday, and 24 on Tuesday.
The Associated Press reported earlier this week that ISIS militants were going door to door in villages south of Mosul, ordering hundreds of civilians at gunpoint on a forced march north into the city, apparently using them as human shields.
UN: 232 killed near Mosul
ISIS militants, meanwhile, slaughtered at least 232 people in and around Mosul this week as Iraqi troops advanced on the city, the UN rights office said Friday.
"Last Wednesday 232 civilians were reportedly shot to death. Of these there were 190 former Iraqi Security Forces officers," rights office spokeswoman Ravina Shamdasani told reporters in Geneva.
"These reports have been corroborated to the extent possible," she added, stressing that the number of people killed in recent days could be higher.
Shamdasani said the execution-style killings came as ISIS was pushing forward with its strategy of forcing people living near the northern Iraqi city into Mosul, the group's last bastion in Iraq.
Iraq launched a massive operation on Oct. 17 aimed at retaking Mosul, which fell to ISIS in a matter of days in the summer of 2014. Iraqi forces are advancing from several directions, but are still well outside the city itself.
The UN and rights groups have expressed fear that more than 200,000 civilians could be displaced in the opening weeks of the offensive. Mosul is still home to more than a million people.
ISIS has built up elaborate defenses on the outskirts of the city, including an extensive tunnel network, and has planted large numbers of explosive booby traps to slow the troops' progress.
Iraqi special forces 'one village away'
Iraqi special forces are still at least six kilometers east Mosul and have faced stiff resistance, with ISIS firing mortars and machine guns and sending armored suicide truck bombs.
Iraqi forces approaching Mosul from the south, meanwhile, are still 35 kilometers from the city, and the special forces to the east said they will not push ahead until the other forces are able to tighten the noose.
Iraqi and Kurdish forces are recapturing territory as part of the offensive to retake Mosul from ISIS.
The US military says Iraqi forces have retaken 40 villages from ISIS near Mosul since the operation began. But most of the fighting has taken place in a belt of sparsely populated farming communities ringing the city.
US Air Force Brig. Gen. Matthew C. Isler said Iraqi troops on Friday were consolidating gains made east and south of the city earlier this week, but insisted "momentum" was still on their side.
Isler says the US-led coalition has stepped up airstrikes against the militants, and is carrying out three times as many as it did during previous campaigns to drive ISIS from other Iraqi cities.
Shiite militias to join Mosul campaign
Iraqi Shiite militias said on Friday they would launch an offensive against ISIS west of Mosul imminently, a move which would block any retreat by the militants into Syria but is likely to alarm Iraq's northern neighbor Turkey.

A spokesman for the Iranian-backed paramilitary groups said the advance towards the ISIS-held town of Tal Afar, about 55 km (35 miles) west of Mosul, would start within "a few days or hours."

If successful, the offensive would leave ISIS fighters - and the 1.5 million civilians still living in Mosul - encircled by an advancing coalition of forces which seeks to crush the hardline Sunni militants in their Iraq stronghold.

Iraqi soldiers and security forces and Kurdish peshmerga fighters, backed by US-led air strikes and support on the ground, already control Mosul's southern, eastern and northern flanks, and have advanced on those fronts for nearly two weeks.

They have recaptured scores of villages on the flat plains east of Mosul and along the Tigris river to the south, but the battle for Mosul itself, Iraq's second largest city, could be the most complex military operation in Iraq since the US-led invasion to topple former president Saddam Hussein in 2003.

Adding to the challenges facing the advancing forces, retreating ISIS fighters have forced women and children from outlying villages to march alongside them as human shields as they withdraw into the city, according to villagers who spoke to Reuters by telephone from Mosul.

Older boys and men of fighting age were taken off to an unknown fate, they said.
Cutting lines to Syria
Ahmed al-Asadi, a spokesman for the Shiite forces known collectively as the Hashid Shaabi, or Popular Mobilisation, said the operation to cut off Mosul's western approaches was crucial to the battle against ISIS, also known as Daesh.

"This is the most important and dangerous line because it connects Mosul to Raqqa and is the only supply line for Daesh," he told Iraqi state television.

Raqqa is ISIS's bastion in Syria, and the two cities form the symbolic capitals of a cross-border "caliphate" declared by its leader Abu Bakr al-Baghdadi from the pulpit of a Mosul mosque in August 2014.

Iraqi and military sources say there has been a debate about whether or not to close off the western route in and out of Mosul. Leaving it open would offer ISIS fighters a chance to retreat, potentially sparing civilians inside the city who might otherwise be trapped in a bloody fight to the finish.

Some civilians fleeing Mosul have used the roads to the west to escape to Qamishli, in Kurdish-controlled northern Syria.

Just as the advancing army and peshmerga forces have had to battle to recapture even small villages on the road to Mosul, facing waves of roadside bombings, sniper fire and suicide car bombs, Asadi suggested the advance on Tal Afar may take time.

It will be launched from the Qayyara military base, about 90 km (55 miles) to the southeast.

"Tal Afar is the final destination ... it is the pyramid's peak. But there are villages in the way that need to be liberated before reaching Tal Afar," Asadi said.
Turkish warning
The Tal Afar offensive will target an area which is close to Turkey and home to a sizeable population of ethnic Turkmen, with historic cultural ties to Turkey.

Turkey fears the use of the Shi'ite militias in the Mosul campaign will lead to sectarian strife in the mainly Sunni region and exacerbate an expected exodus of refugees.

Turkey's Foreign Minister Mevlut Cavusoglu said this week his country, which has troops deployed north of Mosul inside Iraqi territory, will take measures if there is an attack on Tal Afar.

The population of Tal Afar was mix of Sunni and Shiite ethnic Turkmen until Shiites fled the town after ISIS's takeover two years ago.
Russia on Mosul
Russian Foreign Minister Sergei Lavrov said on Friday a US-led operation to liberate the city of Mosul from ISIS in Iraq could significantly impact the balance of power in Syria.
(With agencies)