Iraqi forces drive ISIS from Tal Afar airbase
Iraqi Shiite militias said on Wednesday they had driven ISIS fighters from an air base west of Mosul
Iraqi Shiite militias said on Wednesday they had driven ISIS fighters from an air base west of Mosul, a victory which would threaten the group's supply route from Syria to its last major stronghold in Iraq.

"The airport of Tal Afar has been liberated," Yusif al-Kallabi, a spokesman for Popular Mobilisation, a coalition of mainly Iranian-backed militias, told Iraqi state TV.

The capture of the base, if confirmed, could be a significant development in the campaign to recapture Mosul, ISIS's de facto capital since its forces swept through Iraq in 2014 and set up a self-declared caliphate in a swathe of Syria and northern Iraq.
Tal Afar lies about 60 km (38 miles) west of Mosul on the main road to Syria. Its seizure could also alarm Turkey, which is wary of Iraqi Shi'ite involvement in the civil war in Syria.

"Tal Afar will be the starting block for the liberation of all the area...to the Syrian border and beyond the Syria border," said Hadi al-Amiri, head of Badr Organisation, Popular Mobilisation's largest component, in a video clip.
So far, Iraqi forces have dislodged ISIS militants in eastern Mosul.
Some ISIS militants have already pulled out from the base and moved to the town of Tal Afar, Jafaar Hussaini, a spokesman for Kata'ib Hezbollah, an Iranian-backed group, told Reuters.
"The battle will be finished today," he added.
Kata'ib Hezbollah is a main component in the PMUs, a coalition of mainly Shiite militias that joined the US-backed campaign on Mosul end of October.

Capturing Tal Afar would help cut ISIS's supply lines between Mosul and the territory under control of the militant group in Syria.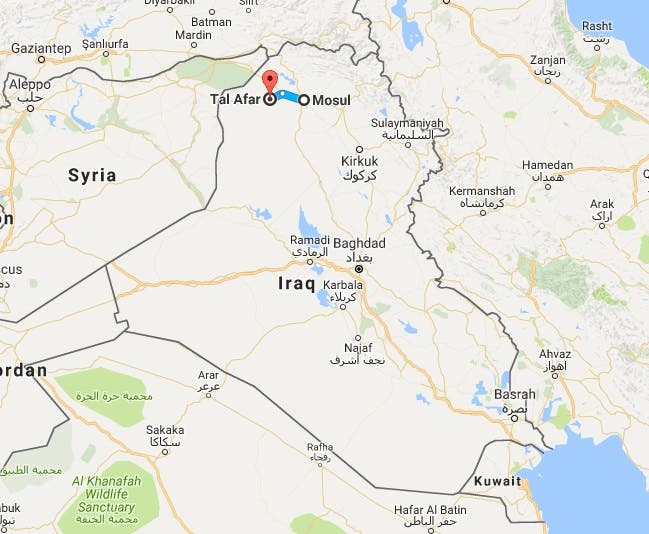 New front in the north
Backed by aerial support, Iraq's special forces have also begun attacking deep in the northern part of Mosul starting from its east.
They faced heavy resistance from ISIS in the form of missile attacks and suicide bombings.
Iraqi forces also continue to further liberate the eastern part of the city.
Military sources told Al Arabiya News Channel that anti-terrorism forces have stormed a new neighborhood east of Mosul from four axis. The neighborhood is considered strategic as its residential buildings are being used by ISIS snipers.
Military sources also said that 10 civilians have been killed due to random shelling by ISIS which targeted the liberated areas in the east.