Essebsi: Tunisia was only Arab Spring success
Speaking exclusively with Al Arabiya, the Tunisian president said the only Arab Spring uprising to succeed was the Tunisian revolution
Tunisian President Beji Caid Essebsi has said the only Arab Spring uprising to succeed was the Tunisian revolution, speaking exclusively with Al Arabiya News channel.
In an interview with Al-Arabiya's General Manager Turki Aldakhil, Essebsi spoke of the country's domestic affairs and relations with foreign countries, as well as touching on his personal life describing his favorite poetry and music.
He said that although he did not participate in the revolution at the time as he "was home", he still "achieved results that no one else managed to achieve and prevented bloodshed".
"Proof of that is Tunisia is standing on its feet today," the president added.
Essebsi also commented on the use of the term "Arab Spring". He said: "The word 'Arab Spring' is imported from the West. I said there is no Arab Spring but the beginning of a Tunisian spring. We in Tunisia are qualified to have an Arab Spring because we have a democratic system."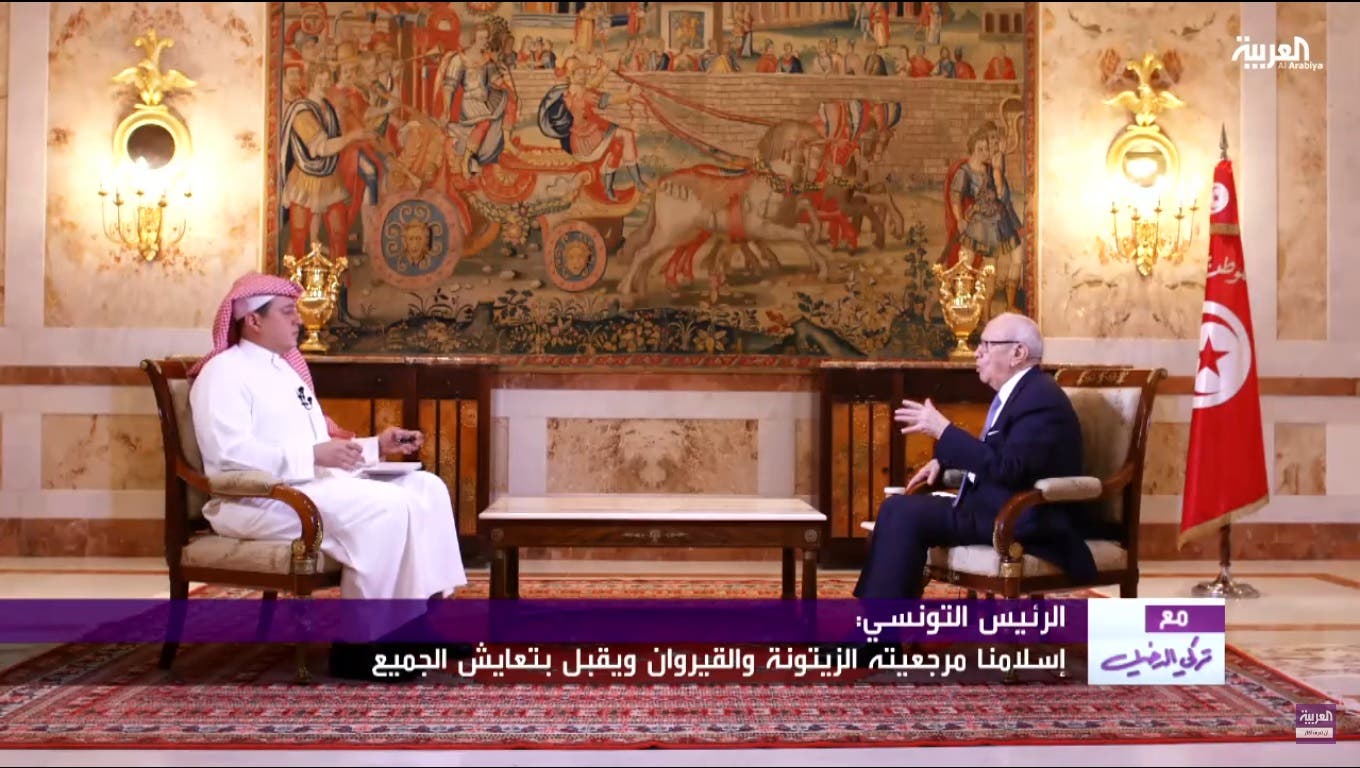 'We reject political Islam'

During the interview, the president discussed Tunisia's domestic affairs, education, freedom of women - as they enjoy more freedom now - economy and development-related problems.
On terrorism in Tunisia, he said there were institutions that attracted young men who were unemployed, or suffering from poverty and end up being exploited by terrorist organizations.
"Sleeper cells are many but we address that seriously and the situation is much better now," Essebsi said.
Essebsi also spoke of his rejection of political Islam.

Helping Libya in revolution against Qaddafi
He also talked about his country's relations with Algeria and Libya.
Asked if there were tensions between Tunisia and Algeria, Essebsi said "relations between Tunisia and Algeria are an extension of struggle for independence, Algeria's and Tunisia's independence."
Regarding Libya, he said: "When it comes to the Libyans, they are different but their disputes won't last."
Essebsi said the solution in Libya would come from the Libyan people themselves, and said he was optimistic the country would overcome its crisis, but said it needed time to do so.
He also revealed that Tunisia helped Libya in the revolution against Muammar Qaddafi's regime.
Essebsi talked about the founder of modern Tunisia, Habib Bourguiba, and said he worked with him for 30 years.

On Donald Trump's election

On the recent American elections, he said it's a US internal affair. But he added that the US was not an ordinary country, but a superpower that's concerned in foreign affairs.
On whether he is optimistic about Donald Trump's term and whether his relations with the Arab world would be better than his predecessor, Barack Obama, he said: "If we are to base this on the statements he made during his electoral campaign, there's indeed pessimism. But his electoral campaign is one thing and his presidential term will be another."
"It's in the hands of Arabs. If Arabs respect one another and unite, no one can defy them," Essebsi said.