Alleged Nusra militant grabs Syrian uprising flag during anti-Assad protest
Video shows an alleged Nusra supporter snatch the Syrian freedom flag away from the protesters
Activists and locals from Aleppo and Idlib took the streets of the rebel-held city of Idlib at the clock tower in solidarity with those suffering in eastern Aleppo.
During the demonstration, the people chanted for the Free Syrian Army to unite, for Russia and Iran to stop bombing Syria and to show solidarity with Aleppo.
They chanted: "Aleppo, we are with you till death"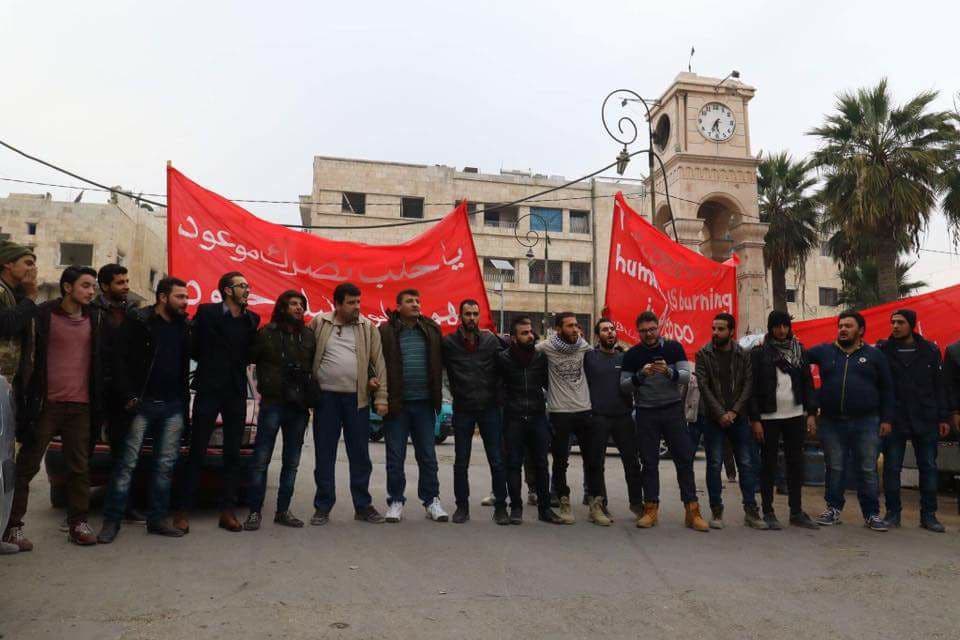 Activists held banners that read: "The conscious of humanity is burning in Aleppo."
Hadi Abdullah, a Syrian media activist who has survived many assassination attempts by the Syrian regime and has covered the massacres in Aleppo attended the protest and told Al Arabiya English that during the march, a man ran up and grabbed one of the freedom flags 'angrily' and tried to destroy it.
He said a group of men ran up and confronted the guy, grabbing the flag back.
According to Hadi, the man who attempted to disrupt the peaceful protest, could be affiliated with Nusra front.
Hadi told Al Arabiya English his message to the people of the world is: "It's very shameful that the world has abandoned the oldest-inhibited city filled with civilians for ruthless killers to destroy every house, rock for rock, and kill its own people. We have lost hope in international justice, human rights… We've lost hope that the international community would stand up for the victim in the face of the oppressor.
"There is one thing that I am sure of, we will continue with our revolution for freedom and justice until we win or die."