GCC 'faces challenges' as summit begins
Kuwait's emir: 'International changes' require the GCC to 'continuously consult and coordinate' with each other
Kuwait's Emir Shaikh Sabah Al-Ahmad Al-Sabah on Tuesday said the Gulf Cooperation Council (GCC) was "facing serious challenges" - especially economically, on the back of dwindling oil prices - in one of the opening addresses marking beginning of a summit for the Gulf states.
Sabah added that "international changes" required the six-GCC states to "continuously consult and coordinate" with each other at the summit currently being held in the Bahrain capital of Manama.
The GCC is made of Saudi Arabia, Bahrain, Kuwait, Oman, Qatar and United Arab Emirates.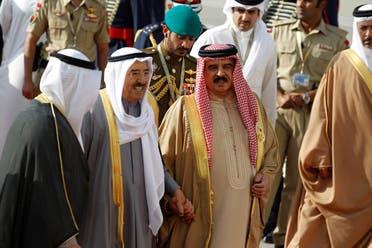 Meanwhile, Saudi King Salman, who arrived in Bahrain on Tuesday after finishing a tour of Gulf states, said it was "obvious to everyone" to see the difficult conditions experienced in the region.
He said what was happening in Syria "hurt us," calling on the international community to take action to stop bloodshed in the Arab country.
After opening speeches, the leaders of the six Gulf states went to attend a closed session. British Prime Minister Theresa May is also attending the closed session.
Ever since its establishment in 1981, GCC has been one of the biggest blocs in the region. It has kept pace with the aspirations of people in Gulf countries and fulfilled many accomplishments such as improving cooperation with other countries via developing the council's economic and commercial relations with significant commercial partners across the world.

This is in addition to regional strategic partnerships with many countries such as Jordan, Morocco and Yemen as well as international strategic partnerships with America, Britain and the European Union.

Joint security work was one of the major fields which the GCC worked on improving via partnerships with regional and international police to fight crimes via the telecommunications network.

The council has strengthened Gulf countries' economic structure via establishing a judicial-economic committee and a temporary coordinating office in the secretariat general of the GCC under the supervision of the financial and monetary administration in the developmental and economic affairs' section. This is all in addition to cooperation in the healthcare and media sectors.

The 37th GCC summit will be attended by British Prime Minister Theresa May. Prior to her arrival in Manama on Monday, May said she wants to open a new chapter of cooperation with Gulf countries in the phase after Britain exited the EU.

She also noted the possibility of enhancing cooperation to prevent terrorist attacks and of enhancing cooperation regarding Gulf investments in British cities.
This was originally published in Al Arabiya. net