Jordan: Police storm castle after shooting kills 10
Gunmen ambushed Jordanian police in a series of attacks, including at a Crusader castle popular with tourists
Gunmen ambushed Jordanian police in a series of attacks Sunday, including at a Crusader castle popular with tourists, killing seven officers, two local civilians and a woman visiting from Canada, officials said.
At least 27 people were wounded in one of the bloodiest attacks in Jordan in recent memory.
In a statement released to Reuters news agency on tuesday, it stated that ISIS claimed responsibility for shootout at the castle.
The standoff between Jordanian special forces and armed men holed up inside the castle continued after nightfall Sunday, several hours after the first shooting. Government officials declined comment on local news reports that the attackers had taken hostages who were later freed.
Shots could still be heard at the scene on Sunday evening, and security forces fired tear gas to flush out the gunmen.
Government minister and spokesman Mohammad al-Momani told state television a manhunt to "eliminate" the gunmen had entered its final phase. He did not elaborate.
"The security forces and gendarme are in the final stage and we don't want to pre-empt news ... we will be dealing with this group of terrorists and eliminate them," Momani said.
Shortly after storming the castle, security forces say they seized suicide belts, weapons and large quantities of explosives in gunmen's hideout.
Jordanian government sent a special helicopter from Amman to the province of Karak, and have closed the city center amid sounds of shooting.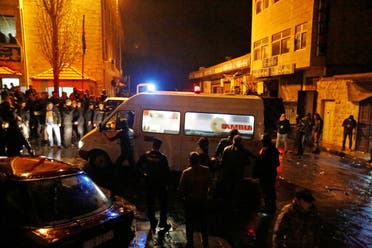 Prime Minister Hani al Mulki told parliament "a number of security personnel" had been killed and that security forces were laying siege to the castle.
The governor of Karak said that a terrorist group was behind the attack.
Security sources said the attackers were being pursued in an area surrounding an ancient castle in the mountainous city where police sealed off the main roads and dispatched elite special forces to hunt the attackers.
Sources close to Jourdanian officals have said that around 1:30 pm, during the police patrol within the Qatraneh center, they were told of the presence of a gas cylinder explosive inside the building.
Upon the arrival of the security forces, the armed militants began to fire shots using rifles.
(With AP and Reuters)