Revealed: Libyan hijackers used fake weapons
The hijackers, armed with a grenade and pistols, forced the airliner to land in Malta before freeing all their hostages
The weapons used on Friday in the hijack of a jet from Libya to Malta were replicas according to the result of an initial forensic examination, Maltese Prime Minister Joseph Muscat said on his Twitter feed.
The hijackers, armed with a grenade and pistols, forced the airliner to land in Malta earlier on Friday before freeing all their hostages unharmed and surrendering.
The hijackers were searched and taken into custody, Muscat also said on his Twitter feed.
One of the men who hijacked a Libyan internal flight and diverted it to Malta told Libyan TV on Friday that he was the head of a party supporting late leader Muammar Gaddafi.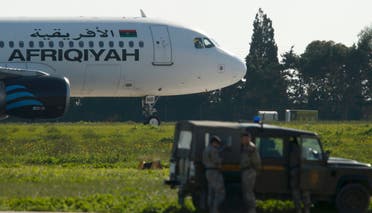 The man, who gave his name as Moussa Shaha, told Libya's Channel TV station by phone that he was the head of Al-Fateh Al-Jadeed, or The New Al-Fateh. Al-Fateh is the name that Gaddafi gave to September, the month he staged a coup in 1969, and the word came to signify his coming to power.
A Libyan lawmaker who spoke to one of the passengers also said the two hijackers were demanding the creation of a pro-Gaddafi party. Images circulating in the media appeared to show a hijacker stepping out of the plane with a green flag similar to those used by Gaddafi supporters
All the passengers were released from the the Libyan hijacked plane.
The Airbus A320 was flying inside Libya for state-owned airline Afriqiyah Airways with 118 people aboard, the reports said. The two hijackers had threatened to blow the plane up, outlets including the Times of Malta reported.
Al Arabiya sources said one deputy from the Libyan House of Representatives is on board of the hijacked plane.
Maltese Prime Minister Joseph Muscat tweeted: "Informed of potential hijack situation of a #Libya internal flight diverted to #Malta. Security and emergency operations standing by -JM".
(With Reuters and AFP)