Iraq forces capture half of Quds in fresh push
Iraqi soldiers have retaken a quarter of Mosul, ISIS' last major stronghold in Iraq, but their advance has been slow and punishing
Iraqi security forces have begun the second phase of the battle to retake Mosul from ISIS militants on Thursday in several southeastern districts of the city, Al Arabiya's correspondent reported.
Breaking a two-week lull in fighting, Iraqi troops backed by the US-led coalition's airstrikes and artillery pushed deeper into eastern Mosul in a multi-pronged assault against ISIS militants in the city.
Elite special forces pushed into the Karama and Quds neighborhoods, while army troops and federal police advanced into the nearby Intisar, Salam and Sumor neighborhoods. Columns of dark smoke rose overhead as explosions shook the city and heavy machine gun fire echoed through the streets.
Stiff resistance by the militants, civilians trapped inside their houses and bad weather have slowed advances in the more than two-month-old offensive to recapture Iraq's second largest city, the extremist group's last urban bastion in the country. It is the biggest Iraqi military operation since the 2003 US-led invasion.
The battle began around 7am on a bright but chilly December day and continued until shortly before sundown.
The counterterrorism forces, also known as the Golden Brigade, captured about half of the Quds neighborhood by early afternoon.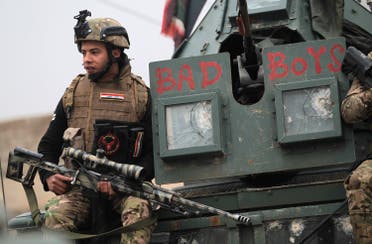 A statement by the US-led coalition said Thursday's offensive opened two new fronts in eastern Mosul, increasing pressure on the militants' "dwindling ability to generate forces, move fighters or resupply."
It said that, at the request of the Iraqi government, coalition warplanes had "re-struck" two bridges over the Tigris River in Mosul on Tuesday, and a day earlier "disabled" the last bridge crossing in the city.
"The strikes were conducted to reduce enemy freedom of movement, and to further disrupt ISIL's ability to reinforce, resupply, or use vehicle-borne improvised explosive devices in East Mosul," said the statement.
In an interview with The Associated Press on Tuesday, Lt. Gen. Abdul-Wahab al-Saadi, commander of the special forces in eastern Mosul, said his forces have been bolstered by reinforcements and were less than 3 kilometers from the Tigris River, which slices the city in half.
Attacks in Baghdad
Meanwhile on Thursday, separate attacks in and around Baghdad killed at least 13 people and wounded 35 others, police said. The deadliest attack took place in the capital's southwestern neighborhood of Maalif when an explosives-laden vest was detonated near an outdoor market, killing seven and wounding 12, police added.
Medical officials confirmed the casualty figures.
All officials spoke on condition of anonymity as they were not authorized to release information.