Father of Louvre attack suspect: My son is innocent
In an interview with Al Arabiya, Gen. Hamahmy said his 29-year-old son, is completely innocent and has evidence to support it
Gen. Ridha Rifai'i al- Hamahmy, the father of the Egyptian accused of being involved in the Louvre attack in which a knife wielding man attempted to enter gallery the, has revealed new information about his son.
In an interview with Al Arabiya, Gen. Hamahmy said his 29-year-old son, is completely innocent and has evidence to support it.
He said Abdullah is currently employed in a legal consulting firm in Sharjah, in the UAE. He told Al Arabiya he called him a few days ago to tell him that he was traveling with his colleagues on a business trip to Paris and would be returning to Sharjah on Saturday.
Abdullah was shot four times after slightly injuring a soldier patrolling the underground mall in Paris, but his injuries are no longer life-threatening, according to the Paris prosecutor's office.
He informed him that he would take the Friday off to explore Paris and buy some gifts. He added that Abdullah had contacted him on Thursday evening, one day before the Louvre incident to assure him that "the business trip was a success".
His father said he was 'shocked' to hear about his son's involvement in the Louvre attack, saying Abdullah was completely innocent of all charges for several reasons.
He said Abdullah was being charged with assaulting a police officer with a knife, while in fact the police officer was more than 190 cm tall, while Abdullah's height is only 157 cm.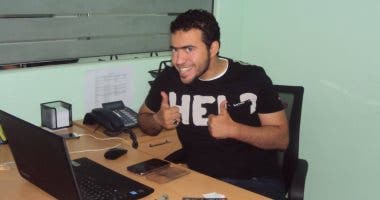 "So logically speaking, it couldn't have been him. Furthermore, the Louvre has three electric gates which make it impossible to smuggle weapons or metals objects in," Gen. Ridha said.
"It is unreasonable for a young man to execute a terrorist attack carrying gifts he purchased and his ID card on him," he added.
Gen. Ridha, a former leader of the Egyptian police, said that his son always listens to music and has no political or extremist affiliation to any group stressing that Abdullah resents extremist ideals in general.
And on the issue of what was written by Abdullah on his Twitter account, Al- Hamahmy speculated that the account might have been hacked adding that "what is written there are not the words of Abdullah. My son loves life and hates extremist groups that kill innocent people".
He explained that his son is now lying in a hospital bed in France. The French security forces rushed to shoot him without checking his identity. Consequently, he suffered serious injuries and had to undergo surgery on his stomach. He said members of his family were not allowed to talk with their son and that Egyptian security services had all the necessary information on the case of Abdullah.
Al-Hamahmy mentioned that his other son works as a police officer and all the members of his family enjoy certain social privilege and status. He said his family had no affiliation with extremist groups, emphasizing that the investigation would prove Abdullah's innocence.
He added that Abdullah was married and has a son named Youssef.

"Abdullah is an example of discipline and dedication to his work which earned him the confidence of his superiors in the company he works for. He was always carrying out the company's mission abroad, and if he had any extremist or militant ideas they wouldn't have trusted him to implement the company's missions outside the UAE," the father said.