Khamenei tells Trump 'no enemy can paralyze' Iran
Hassan Rowhani said the nuclear deal can be used as a stepping stone to defuse regional tension
Iranian Supreme Leader Ayatollah Ali Khamenei dismissed US President Donald Trump's warning to Tehran to stop its missile tests, and called on Iranians to respond to Trump's "threats" on Friday's anniversary of the 1979 revolution.

"No enemy can paralyze the Iranian nation," Khamenei was quoted as saying by his website in a meeting with military commanders in Tehran.

Khamenei says 'you should be afraid of me'. No! The Iranian people will respond to his words on Feb 10, (the anniversary of revolution) and will show their stance against such threats."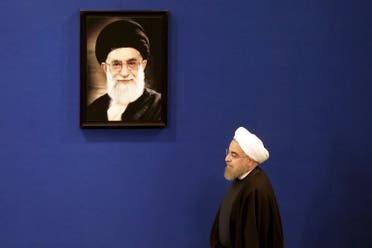 Earlier, Iran's president Hassan Rowhani said Tehran's landmark 2015 nuclear deal with world powers could serve as a blueprint for resolving other Mideast disputes.
Rowhani said "dozens" of such high-profile negotiations could "lead to security and stability of the region" - even though President Donald Trump has called the agreement on curbing Iran's nuclear program "terrible."