ISIS leader Abu Bakr al-Baghdadi has fled Mosul and has apparently delegated tactical control of the battle for the city to local commanders, US defense officials have said.
The official said the elusive leader, who appeared in public in Mosul in July 2014 to proclaim a "caliphate," fled the former ISIS bastion some time before Iraqi security forces surrounded the city during an offensive to retake it.
"He was in Mosul at some point before the offensive. We know he's been there," the official told reporters.
"He left before we isolated Mosul and Tal Afar," a town to the west of the city, the official added.
RELATED: Has ISIS leader Baghdadi abandoned Mosul fight to field commanders?
Baghdadi is not believed to be exercising any kind of tactical influence on how the Mosul fight will play out, the official said.
"He probably gave broad strategic guidance and has left it to battlefield commanders."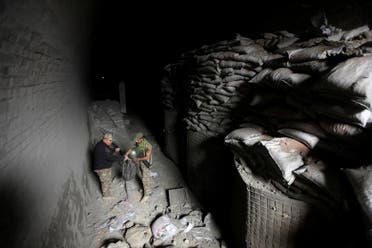 The hunt for Baghdadi is being led by various groups including US special operations forces, while the anti-ISIS coalition focuses on killing battlefield commanders.
ISIS has lost most of the land it once held in Iraq and Syria but hopes to cling to scraps of a self-declared caliphate, the official said.
Sources have also confirmed to Al Arabiya News Channel's correspondent that ISIS has teared down communication cell towers in areas of west Mosul.
ISIS have done so in order to cut off communication between local residents and US forces who are furthering their advances to retake Mosul from the extremist group.
(With AFP)