Mohammed bin Salman-Mattis discuss Iran's 'destabilizing regional activities'
Saudi Arabia's Deputy Crown Prince Mohammed bin Salman on Thursday met with US Defense Secretary James Mattis and discussed US-Saudi military cooperation in the fight against ISIS, the Pentagon said in a statement.
Mohammed bin Salman, who is also Saudi Arabia's defense minister, also discussed with Secretary Mattis the challenge of "confronting Iran's destabilizing regional activities," the statement said. According to reports, the two sides discussed several strategic issues, ranging from the Iranian interference in the region and other challenges facing the Middle East.
According to an Al-Arabiya reporter, the meeting lasted over three hours and that an atmosphere of consensus developed between the two parties.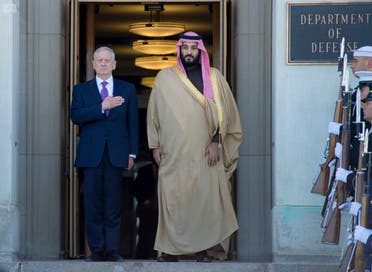 The meeting was held in the presence of the Chairman of the Joint Chiefs of Staff Joseph Dunford, the National Security Adviser H.R. McMaster, the President's senior counselor for economic initiatives Dina Powel, the White House chief strategist Steve Bannon, and senior defense and foreign ministry officials.
From the Saudi side, the meeting was attended by Dr. Moussaed al-Aiban, Minister of State and Member of the Cabinet, Foreign Minister Adel al-Jubeir, Intelligence Chief Khalid al-Humaidan, Assistant Defense Minister Gen. Mohammed al-Ayesh, advisors at the Royal Court Saud al-Qahtani and Fahd Tunissi, Minister of State for Arabian Gulf Affairs at the Foreign Ministry Thamer al-Sabhan and advisor to the Saudi defense minister Maj. Gen. Ahmed Asiri.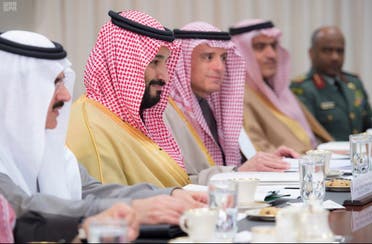 Troops to Syria
When asked by the journalists, Prince Mohammed said that Saudi Arabia is ready to send its troops to Syria as the country would do all it takes to eradicate terrorism. He also stressed on the historic ties between Saudi Arabia and the United Stated, adding that the collaboration between the two countries was very positive.
Prince Mohammed said that Saudi Arabia is in the front row in terms of combating terrorism, adding that his country is the most to suffer from extremists. He added that they are very optimistic about Trump's presidency, saying that he is confident that challenges will be well-managed with the Trump administration.
This article is also available in Arabic.