UN chief Antonio Guterres: Iraq is in final stages of fight against terrorism
Baghdad - The Secretary General of the United Nations Antonio Guterres has called his visit to Iraq "historic" and said fight against ISIS is in the 'final stages' as he met with officials to discuss the fight against extremism, especially the ongoing battles to liberate Mosul from ISIS control.
"We are working and helping the Iraqi government to build institutions and provide the required services to the Iraqis," Guterres said in a statement after meeting with Iraqi Foreign Minister Ibrahim al-Jaafari on Thursday.
For his part, Jaafari said his government appreciates the UN's stances in providing various kinds of support to the Iraqi people, praising the work of the mission in Baghdad and "their sacrifices and efforts of their teams in providing the necessary supplies for Iraqis in various fields since 2003".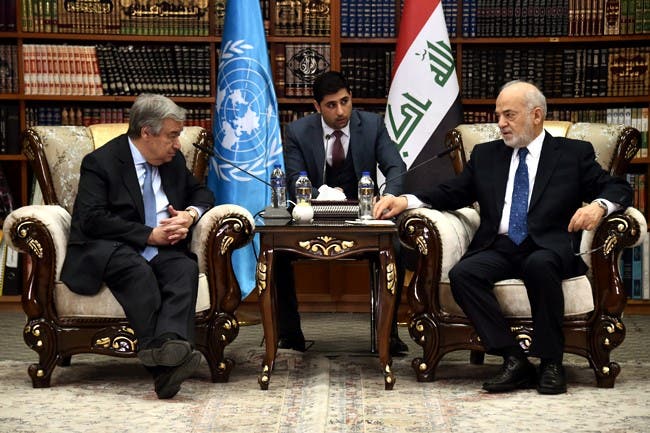 Hundreds of thousands of civilians remain in Mosul, which was seized by ISIS group in 2014, and officials and witnesses have said that air strikes have taken a devastating toll on civilians in the city this month.
Guterres later met with the Iraqi Prime Minister Haider al-Abadi in Baghdad before flying to Erbil, the capital of the country's autonomous Kurdish region.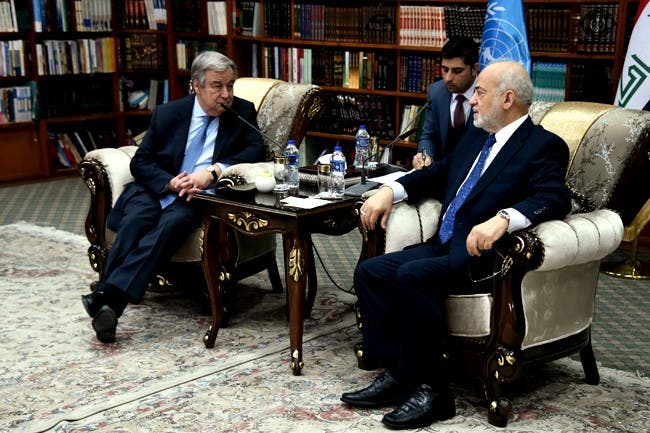 "This is a visit of solidarity, solidarity with the Iraqi people, solidarity with Iraqi Government and institutions; solidarity in what I believe is an historic moment for Iraq. Iraq is in the final stages of its fight against terrorism," he told reporters during a joint press conference with Abadi.