A Syrian asylum seeker in Greece poured fuel on his body and set himself on fire on Thursday in front of others at a refugee camp on the island of Chios.
The man in question was frustrated and desperate for asylum. Several Greek media outlets broadcasted the painful scenes of the Syrian refugee who attempted to take his own life.
The 29-year-old appears in the video, which has spread rapidly in the media, and explains to those gathered around him in the camp of more than 1,200 asylum seekers, why he intends to end his life. The young man stated that he suffered unfair injustice by the island authorities for repeatedly denying his requests for asylum and threatening to extradite him to Syria.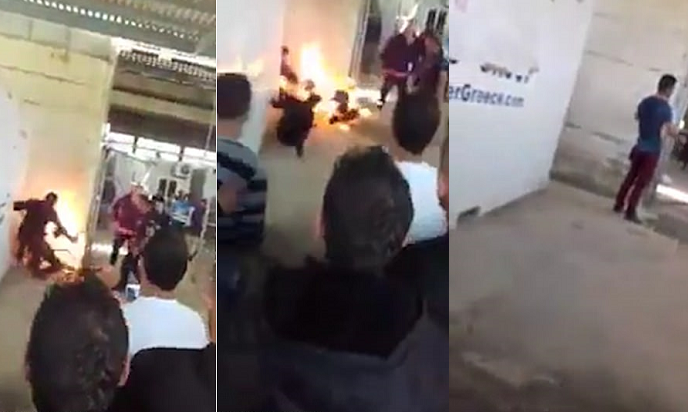 There were two policemen among the crowd who tried to talk him out of it and attempted to calm him down, but he lit a lighter which was in his hand and set himself on fire screaming painfully with agony.
The Greek ANA news agency reported that he was rushed for treatment at the island's hospital. His doctors discovered that 90 percent of his body was burnt and requested his immediate transfer to the burn unit in Athens. One of the officers who tried to stop him also suffered from burning cell tissue in his head and hands.
The agency reported in a separate segment that another Syrian refugee was found hanged last Monday in the port of Piraeus near Athens. The police opened an investigation into the circumstances of the incident. On another note, a 26-year-old Greek smuggler was put into custody for detaining 23 immigrants most of them Pakistanis, in a warehouse until their relatives paid for their entry into Greece after he and his accomplices, also wanted by the police, smuggled them across the land border in the Greek Northeast .
The human trafficker kept them in a warehouse in the town of Menemeni near the town of Salonika in the north of the country. Smugglers usually request 1500 to 3,000 euros per head. Currently, Greece has more than 14,000 asylum seekers from several nationalities, mostly from African and Arab countries.
(With agencies)