What the father of twin toddlers killed in chemical attack said about US strike
Alaa Alyousef, the survivor of the chemical attack in a northern Syrian town says he hopes the US missile attack could help put an end to Syrian government airstrikes, creating a safe area for civilians.
Alaa Alyousef, a 27-year old resident of Khan Sheikhoun, said Friday the US missile attack "alleviates a small part of our sufferings," but he worries it will be like "anesthetics," to save face. AlYousef said the US is capable of "paralyzing" Syrian warplanes.
"What good is a strike on Shayart air base alone while we have more than 15 other air bases," he said.
Alyousef lost at least 25 relatives in this week's gruesome chemical attack in Khan Sheikhoun. The Syrian government denies it was behind the attack, believed to have deployed chemical weapons.
Say goodbye
It was earlier reported that the father cradled his 9-month-old twins, Aya and Ahmed, each in an arm. He stroked their hair and choked back tears, mumbling, "Say goodbye, baby, say goodbye" to their lifeless bodies.
Abdel Hameed Alyousef lost his two children, his wife and other relatives in the suspected chemical attack Tuesday in the northern Syrian town of Khan Sheikhoun that killed at least 72 people.
In footage shared with The Associated Press, Alyousef sits in the front seat of a van with the twin, his eyes red as he asks his cousin Alaa to video his farewell to them.
'They were conscious at first'
When the airstrike took place, "I was right beside them and I carried them outside the house with their mother,"Alyousef, a 29-year-old shopowner, told the AP. "They were conscious at first, but 10 minutes later we could smell the odor." The twins and his wife, Dalal Ahmed, fell sick.
He brought them to paramedics and, thinking they would be OK, went to look for the rest of his family. He found the bodies of two of his brothers, two nephews and a niece, as well as neighbors and friends. "I couldn't save anyone, they're all dead now," he said.
Only later was he told his children and wife had died. "Abdel Hameed is in very bad shape," his cousin Alaa said. He's being treated for exposure to the toxin. "But he's especially broken down over his massive loss."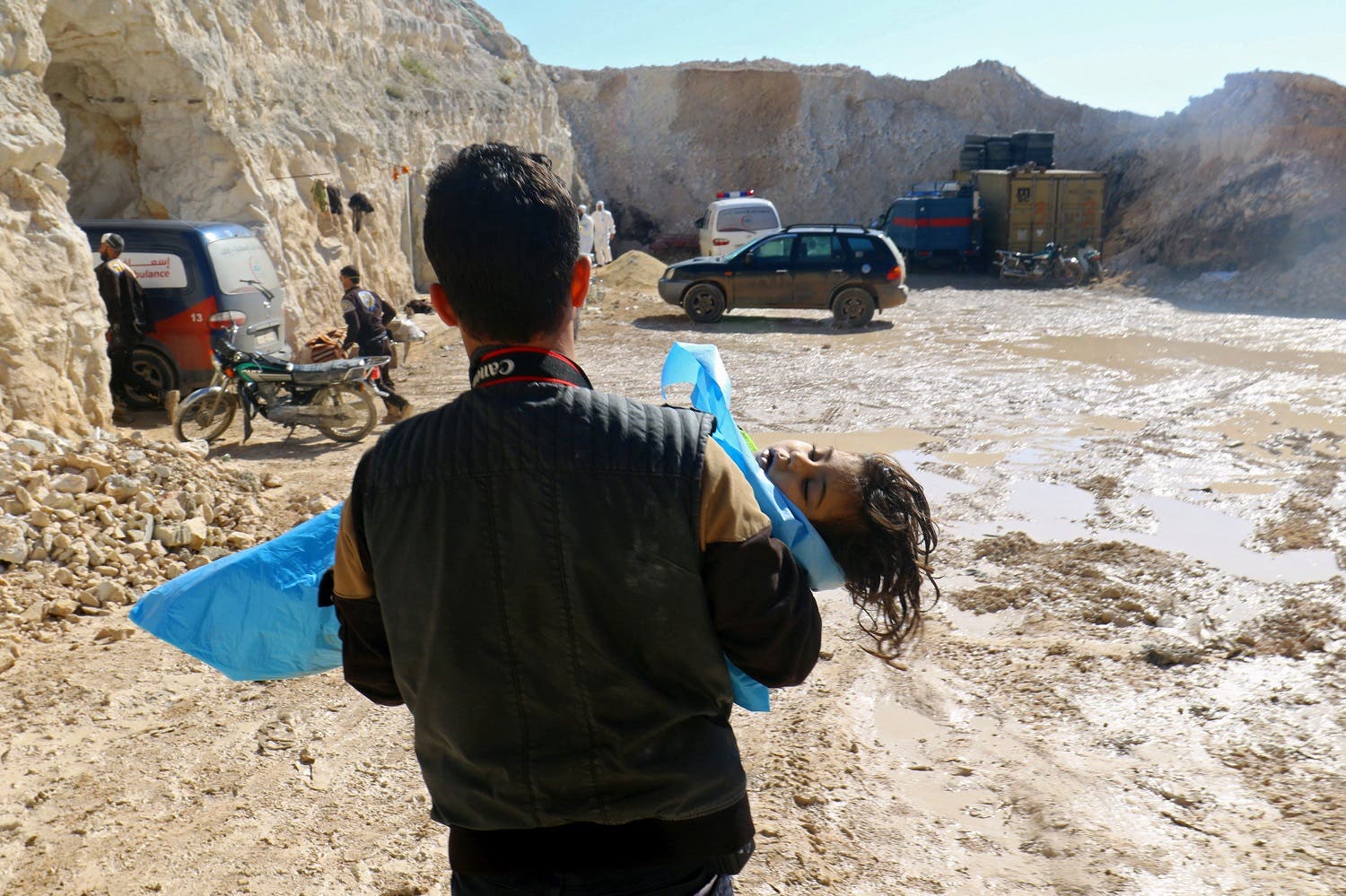 Hardest hit family
More than 80 people, including at least 30 children and 20 women, were killed in the chemical attack on the Syrian town of Khan Sheikhoun early Tuesday, and the toll could still rise. The Alyousef family, one of the town's main clans, was hardest hit.
Another member of the family, Aya Fadl, recalled running from her house with her 20-month-old son in her arms, thinking she could find safety from the toxic gas in the street. Instead, the 25-year-old English teacher was confronted face to face with the horror of it: A pick-up truck piled with the bodies of the dead, including many of her own relatives and students.
I love you my birds
"Ammar, Aya, Mohammed, Ahmad, I love you my birds. Really they were like birds. Aunt Sana, Uncle Yasser, Abdul-Kareem, please hear me," Fadl said, choking back tears as she recalled how she said farewell to her relatives in the pile. "I saw them. They were dead. All are dead now."
The tragedy has devastated the small town. It also deepened the frustration felt by many Syrians in opposition-held areas that such scenes of mass death, which have become routine in the country's 6-year-old civil war, bring no retribution or even determination of responsibility.