Less than 24 hours after US strikes, Syrian jets take off from Shayrat airbase
Syrian warplanes have reportedly taken off from the air base targeted by US air strikes, less than 24 hours after it was pounded by dozens of Tomahawk missiles.
According to the Syrian Observatory for Human Rights, Syrian army jets had taken off from the base to carry out strikes on rebel-held areas near Homs.
Military officials had "done the impossible" in order to continue using the base for sorties, the Observatory added.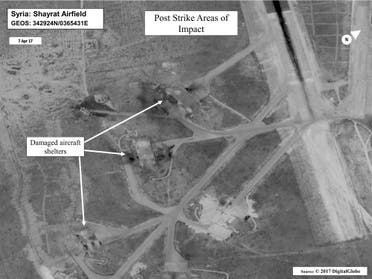 The London-based monitoring group uses sources on the ground to keep track of events in the country.
The strikes were in reaction to what Washington says was a poison gas attack by the government of Syrian President Bashar al-Assad that killed at least 70 people in rebel-held territory. Syria denies it carried out the attack.
Satellite imagery suggests the base houses Russian special forces and helicopters, part of the Kremlin's effort to help Assad fight ISIS and other militant groups.
US officials informed Russian forces ahead of the missile strikes and avoided hitting Russian personnel.
(With Reuters)