Tens of thousands packed one of the biggest public spaces in Istanbul as President Recep Tayyip Erdogan hosted a giant rally seeking votes in Turkey's largest city just over a week ahead of a nation-wide referendum.
Lambasting Turkey's enemies and taking pot shots at his opponents, Erdogan said a 'Yes' vote in the April 16 referendum would give Turkey more stability and power.
"On April 16, do you want to say 'Yes' to a strong Turkey?" Erdogan asked the crowd, who waved a sea of red and white crescent moon Turkish flags.
"Do you want a great Turkey? Do you want to say 'Yes' to stability? Will you be there Istanbul?" he added, as the crowd roared back 'Yes!".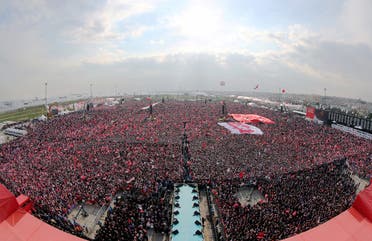 Erdogan arrived by helicopter to cheers at the vast open ground space in the Istanbul district of Yenikapi on the shores of the sea of Marmara.
It was here on August 7, 2016 that he held a mass rally to promote national solidarity in the wake of the failed July 15 coup blamed on the US-based preacher Fethullah Gulen and clearly wanted to capture the spirit of that day.
Erdogan said that the likes of Gulen, who denies being behind the coup, and the outlawed Kurdistan Workers Party (PKK), wanted to see a 'No'.
He said that 'No' vote backers also were also against his projects to transform Turkey through modern infrastructure projects such as bridges and tunnels.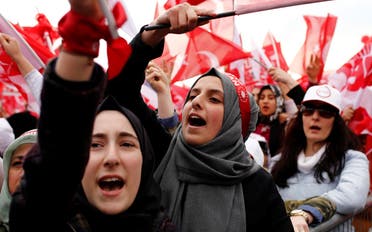 "They said 'No' to the bridges. They say 'No' to a modern Turkey," he roared, prowling around a walkway that extended from the stage like at a rock concert.
If approved, the new system will see the scrapping of the post of prime minister, the creation of vice presidents and the empowering of the president to appoint ministers.
The changes will also allow the president to be affiliated with a party, allowing Erdogan to restore his ties with the Justice and Development Party (AKP) that he co-founded and helped sweep to power in 2002.
Supporters say that the new system will create an efficient US-style structure but critics argue the lack of checks-and-balances risk handing Erdogan one man-rule.