Families of victims of Sunday's bombing at Alexandria's Coptic cathedral gathered at the Monastery of Saint Mina under heavy security on Monday as Egypt's cabinet approved a three-month state of emergency ahead of a scheduled trip by Pope Francis.

Coffins of the 17 killed were lined up on the tiled square outside the monastery ahead of the funeral. Police checked cars as they entered the grounds, with hundreds of people gathered outside, and dozens of tanks lined parts of the road from Cairo.

The blast in Egypt's second largest city came hours after a bomb struck a Coptic church in Tanta, a nearby city in the Nile Delta, killing 27 and wounding nearly 80.

Both attacks were claimed by the ISIS, which has waged a campaign against Egypt's Christian minority, the largest in the Middle East. The Copts, whose presence in Egypt dates to the Roman era, have long complained of religious persecution and accused the state of not doing enough to protect them.

Coming on Palm Sunday, when Christians mark the arrival of Jesus in Jerusalem, the bombings appeared designed to spread fear among Copts, who make up 10 percent of Egypt's population.

They also raised security fears ahead of a visit to Cairo by Roman Catholic Pope Francis planned for April 28-29.

Coptic Pope Tawadros, who was leading the mass in Alexandria's Saint Mark's Cathedral when the bomb exploded, was not harmed, the Interior Ministry said.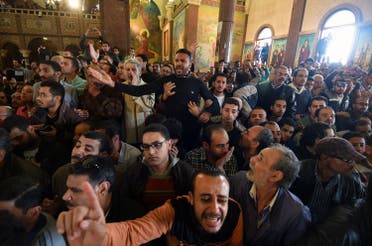 The nationwide state of emergency declared by President Abdel Fattah al-Sisi and agreed by the cabinet on Monday is expected to be approved by parliament within seven days in order to remain in place.

"The armed forces and police will do what is necessary to confront the threats of terrorism and its financing," the cabinet said in a statement. Measures would be taken to "maintain security across the country, protect public and private property and the lives of citizens," it said.
Softer Christian target
In Tanta, where many families buried their dead on Sunday, members of the Coptic community expressed anger at the lack of security, saying that despite warnings of an attack, police had not stepped up efforts to protect them.

A senior police official told Reuters a bomb was discovered and disabled near the Tanta church about a week ago.

"That should have been an alarm or a warning that this place is targeted," said 38-year-old Amira Maher. "Especially Palm Sunday, a day when many people gather, more than any other time in the year... I don't know how this happened."

At Tanta University hospital morgue, desperate families were trying to get inside to search for loved ones. Security forces held them back to stop overcrowding, enraging the crowd.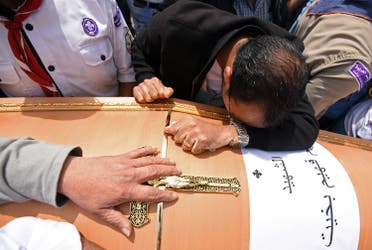 "Why are you preventing us from entering now? Where were you when all this happened?" shouted one women looking for a relative. Some appeared in total shock, their faces pale and unmoving. Others wept openly as women wailed in mourning.

Though ISIS has long waged a low-level war against soldiers and police in Egypt's Sinai peninsula for years, its stepped up assault on Christians in the mainland could turn a provincial insurgency into wider sectarian conflict.

On Sunday, the group warned of more attacks and boasted it had killed 80 people in three church bombings since December.

Security analysts said it appeared that ISIS, under pressure in Iraq and Syria, was trying to widen its threat and had identified Christian communities as an easier target.

"ISIS are deeply sectarian, that's nothing new, but they have decided to re-emphasise that aspect in Egypt over the past few months," said H.A. Hellyer, senior non-resident fellow at the Atlantic Council and the Royal United Services Institute.

"Christian targets are easier -- churches are far more difficult to fortify than say an army barracks or a police station. It's a disturbing development because it indicates we have the possibility of repeated and continued attacks against soft targets."