Maliki handed over Iraqi cities to ISIS, Moqtada al-Sadr representative says
A representative of prominent Shiite cleric Moqtada al-Sadr in Baghdad, Ibrahim al-Jabri, said on Friday that former Iraqi Prime Minister "Nouri al-Maliki is behind the current crises that have hit Iraq," adding: "Maliki handed over several Iraqi provinces to ISIS."
Jabri said "Maliki cannot do anything about the suffering of the Iraqi people because he caused the suffering and the killing of our sons by security forces at the Speicher base."
Camp Speicher, officially known as the Tikrit Air Academy, is an air installation near Tikrit in northern Iraq.
With Iraqi forces all but certain to defeat ISIS in Mosul this year, Sadr has begun mobilizing his supporters ahead of two elections, for provincial councils in September and the crucial parliamentary vote, by April 2018.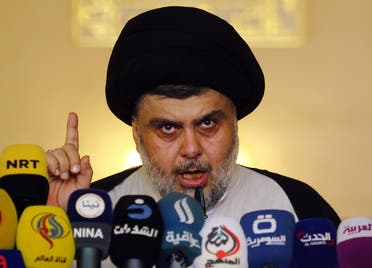 His main rival is former Prime Minister Nuri al-Maliki, a pro-Iranian politician who started positioning himself last year as a possible kingmaker or even for a return to the premiership itself.
Maliki's eight-year rule ended in 2014, when the Iraqi army collapsed in the face of an ISIS offensive, forcing him to hand over power to current Prime Minister Haider al-Abadi. Both men are members of the Shiite Dawa party.
He now holds the ceremonial position of vice president but still wields considerable influence, chairing the Dawa party which controls the largest bloc in parliament.
(With Reuters)