EXCLUSIVE: General Asiri exposes Iranian plot to strike Saudi Arabia from Yemen
In an interview with Al Arabiya General Manager Turki Aldakhil this week, General Ahmed Asiri, the spokesman for Arab coalition forces fighting in support of the legitimate government in Yemen, revealed the existence of an "Iranian plot to strike the security and stability of Saudi Arabia."
This plot would have been initiated from the Yemeni border, which prompted Saudi forces to move to protect the kingdom's territory, Asiri said, referring to the military intervention launched by Saudi Arabia and a coalition of Arab countries in 2015 codenamed Operation Decisive Storm.
The coalition are battling against Houthi militias and bolstering Yemeni government forces after a Houthi takeover of the capital Sanaa and surrounding areas in recent years.
Asiri said that Iran had aimed to employ "local militias to implement their scheme."
The emergence of Iranians in Yemen came about through Tehran's "support of Houthi militias with funding and weaponry in the six wars [that former President Ali Abdullah Saleh fought against them since 2004 until his overthrow in June 2011]."
Despite frequent Houthi and Iranian military disclosures and the confirmed use of Iranian weaponry, Tehran officially denies claims from Gulf states and the US that it is supporting the Houthis.
Asiri said Saudi intelligence had found that "Houthi fighters are bankrolled $100 per day" by Iranian sources.
He also said that reports of "a Hezbollah training presence in Yemen to discipline Houthis to attack Saudi Arabia and carry out suicide operations inside the kingdom" also emerged from the intelligence.Confronting the Iranian plot
Asiri, who is also an advisor to the Saudi defense minister, said that Saudi forces "did not need to wait for Yemen to become another missile base that threatens the security and safety of Saudi Arabia, as the Iranians planned to do, to turn Yemen into a military base, from which they could attack the kingdom."
He added that the Yemeni border region would have eventually become "unstable," and provide opportunities for "agents to infiltrate into Saudi Arabia."
Saudi Arabia has been attacked with 48 ballistic missiles since the war broke out, Asiri said, adding: "The total number of rockets fired by the militias at the kingdom or inside Yemen amount to 138."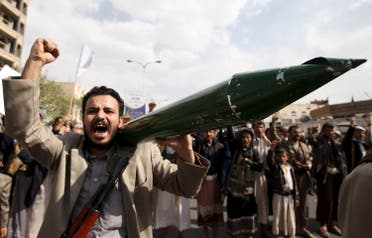 It is believed that the missiles are manufactured in North Korea, China and former Soviet Union states. Iran takes care of the operation, preparation and maintenance of missiles, he said.
"The most dangerous thing is that those in control of these weapons are militias who are non-state actors. When a weapon is used, the state is responsible before international law and the United Nations, but the existence of a militia that is not recognized, in non-controlled areas with high-tech weapons is a very dangerous matter."
Asiri said that if Iran was to rule in Yemen, "Saudi air defense capability would be dispersed across two fronts, an eastern and southern front.
The coalition's strategy towards civilians
"The coalition's course of action consisted of two options; either a conventional air campaign, followed by a comprehensive ground operation on all Yemeni territory with forces entering Yemen and occupying all areas. But this approach would have proven costly," Asiri said.
"It did not happen for several reasons: First, there would have been be a large deployment of ground forces which would have resulted in a large number of civilian and military casualties. One of the objectives of the coalition is to rid Yemeni civilians of the Houthi rebel presence in their daily lives."
He added: "There are around 100,000 Saudi forces stationed on the border that could have occupied Yemen in a few days, but we wanted to support legitimacy in Yemen with the least possible losses on both sides. We are like a technical team in a hostage situation."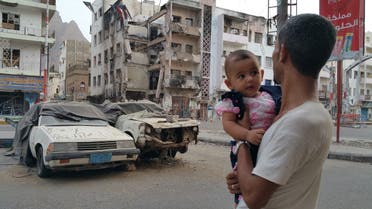 Asiri said that the coalition forces preferred to go with a more patient and drawn-out approach because "it puts the militias under pressure."
Today, two years into the war, the Houthis are deprived from accessing material supplies and weaponry. They have lost a large number of their trained fighters and leaders. Many observers believe that time is on the side of the Arab coalition forces.
Length of the war
When asked why the war has lasted for two years so far, Asiri said: "Talk of a military victory shows a lack of understanding of the reality of the operation in Yemen. There are coalition forces with a mission to support the legitimate government, so the quest for a victory for them is nonexistent."
"We are looking to accomplish three goals," he said, "First, to preserve the Yemeni state, secondly, to reduce the dangers to Yemeni citizens and thirdly to protect the Saudi borders. We have been able to accomplish a significant part of our objectives."
Asiri emphasized that the legitimate government is now currently operating in Aden, where "life is back to normal." He said that the government now controls about 85 percent of Yemeni territory.
Achievements of the coalition
"Within six months, the government regained 45 percent of Yemeni territory," Asiri said, tallying the timeline of the coalition's achievements.
Twelve months after the start of Operation Decisive Storm, 65 percent of Yemeni territory became under the control of the legitimate government. Eighteen months later, the number grew to 75 percent, he added.
The retreat of al-Qaeda
While some claim that the operations of the coalition forces enhanced al-Qaeda's influence on the territory of Yemen, Asiri said that Mukalla, a seaport and the capital city of Yemen's Hadramawt governorate, had been freed from the reign of al-Qaeda and is under the control of the legitimate government.
Protection of the Saudi border
Asiri presented in his interview a number of statistics, indicating that the number of the cross-border infiltrators before the Operation Decisive Storm was recorded at around 18,651 infiltrators per month. The number has dropped by 86 percent, amounting to around 2,619 infiltrators per month. MORE HERE
Houthi attacks on border controls were carried out at a rate of six to 10 operations per month at the beginning of the operation; it is now down by 90 percent, with around one operation recorded per month.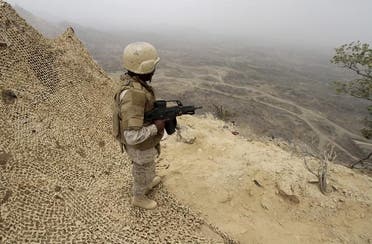 Turki Aldakhil's full interview with General Ahmed Asiri was broadcast on Al Arabiya News Channel on Sunday evening April 16, at 7 p.m. Makkah time.