Iraqi forces pushed further into Mosul from the north on the second day of a new push to speed up the nearly seven-month attempt to dislodge ISIS, commanders said on Friday.

ISIS tried to block the troops' northerly advance into their de facto Iraqi capital with suicide car bombs and sniper fire, Brigadier General Walid Khalifa, deputy commander of the 9th brigade, told Reuters in Hulayla, west of Musherfa.

His troops had killed about 30 militants, destroyed five car bombs before they could be used against them, he said.

US air support has proved vital for spotting suicide car bombs and for avoiding targets where civilians are trapped.

Brigadier General Yahya Rasool, a spokesman for the joint operations command, told Reuters the militants "didn't have time to make barriers, the advance since yesterday has been good".

An army statement said the Second Musherfa district as well as the Church and Mikhail's Monastery area had been retaken.
Civilian escape routes
The US-backed Iraqi forces' new foothold aims to open escape routes for the hundreds of thousands of civilians trapped behind ISIS lines and, in turn, help troops' progress.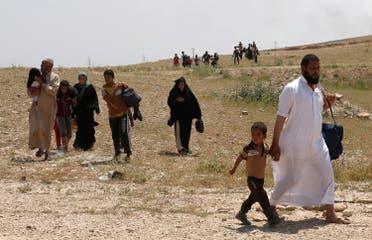 Rasool said Iraqi forces rescued 1,000 families on Thursday.

Footage taken by a drone operated by the Iraqi 9th Armored Division over the northwestern suburb of Musherfa and seen by Reuters, showed the militants had scant defenses there, unlike in other parts of Mosul where streets are blocked by anti-tank barriers and vehicles.

US Army Lieutenant Colonel James Browning, the partnered adviser to the 9th, said the militants had tried to keep some streets open in order to use suicide car bombs.
SEE ALSO: Five years, billions of dollars needed to rebuild Mosul

The ISIS was probably expecting the attack, he said, "but they can't defend everywhere".

Only two months ago, the militants would be firing 200 rockets or mortars at Iraqi forces in Mosul on any given day, Browning said, but in the past two days it dropped to about 30.

"When you open up more fronts it becomes harder for (ISIS) to be able to defend. There are certainly some challenges. There are defenses in place," he told Reuters.
White flag
ISIS had taken up positions in the homes of civilians in Musherfa, said one man who came out of Mosul carrying his handicapped son.

"They knocked on our door but we did not open it. When the army came we raised the white flag," he said.

He was among several dozen people walking out of Musherfa with the full beard that ISIS makes men grow in places where it holds power.

The 9th Armored Division and the Interior Ministry's Rapid Response units are aiming for the Tigris river bank to complete their encirclement of the ISIS-held Old City center.

Their progression should help the elite Counter-Terrorism Service (CTS) and Interior Ministry Federal Police troops who are painstakingly advancing from the south.

The militants are now besieged in the northwestern corner of Mosul which includes the historic Old City, the medieval Grand al-Nuri Mosque, and its landmark leaning minaret where their black flag has been flying since June 2014.

ISIS leader Abu Bakr al-Baghdadi declared a "caliphate" spanning parts of Syria and vast swathes of Iraqi territory from the pulpit of the Grand al-Nuri Mosque nearly three years ago.

The Iraqi army said on April 30 that it aimed to complete the battle for Mosul, the largest city to have fallen under ISIS control, in both Iraq and Syria, this month.

However, even defeat in Mosul would not be the end of the hardline Sunni group, which still controls parts of Syria and large amounts of Iraqi territory near the Syrian border.