President Hassan Rouhani is leading the vote count in Iran's presidential election, interior ministry official Ali Asghar Ahmadi told reporters on Saturday.

Rouhani had won 21.6 million votes, compared to 14 million for Raisi, with 37 million votes counted, the source added. There were about four million more votes still to be tallied, the source said.

More than 40 million ballots were cast, the interior ministry said, indicating a turnout of about 70 percent in Friday's vote, roughly similar to the showing in 2013 elections when Rouhani swept into office in a landslide victory

State television said the official early results would be announced soon.
Large turnout
Vote counting began in Iran on Saturday after a large turnout in an unexpectedly tight presidential election pitting President Hassan Rouhani, who wants to normalize ties with the West, against a hardline judge who says he has already gone too far.

Friday's voting was extended by at least five hours to 11 p.m. (1830 GMT) because many people were still waiting in line, state television reported. Interior Minister Abdolreza Rahmani-Fazli said that by law voting could not continue past midnight.
Rouhani, 68, who swept into office four years ago promising to open Iran to the world and give its citizens more freedom at home, faces an unexpectedly strong challenge from hardliner Ebrahim Raisi, a protege of supreme leader Ali Khamenei.

The election is important "for Iran's future role in the region and the world", Rouhani, who struck a deal with world powers two years ago to curb Iran's nuclear program in return for the lifting of most economic sanctions, said after voting.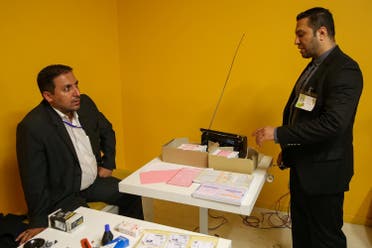 The initial signs of strong turnout could be good news for Rouhani, whose backers have long said their biggest worry was apathy among reformist-leaning voters disappointed with the slow pace of change.

Raisi, 56, has accused Rouhani of mismanaging the economy and has traveled to poor areas holding rallies, pledging more welfare benefits and jobs.

He is believed to have the backing of the powerful Revolutionary Guards security force, as well as the tacit support of Khamenei, whose powers outrank those of the elected president but who normally steers clear of day-to-day politics.

"I respect the outcome of the vote of the people and the result will be respected by me and all the people," Raisi said after voting, according to the semi-official Fars news agency.

However, Raisi later appeared at the Ministry of Interior in Tehran on Friday and complained of a shortage of ballot sheets at many polling stations, according to Fars. More ballot sheets were subsequently sent out, the agency reported.
Referendum
The election is largely viewed as a referendum on the 68-year-old Rouhani's more moderate policies, which paved the way for the nuclear accord despite opposition from hard-liners.
Economic issues also will be on the minds of Iran's over 56 million eligible voters as they headed to more than 63,000 polling places across the country. The average Iranian has yet to see the benefits of the deal, which saw Iran limit its contested nuclear program in exchange for the lifting of some sanctions.
Iranian religious leader Ayatollah Ali Khamenei, the most powerful man in Iran, symbolically cast the election's first vote and called on Iranians to turn out in huge numbers for the poll. "Elections are very important and the fate of the country is in the hands of all people," he said.
Iranian opposition leader denounces 'sham' presidential elections on Twitter
In the election, Rouhani has history on his side. No incumbent president has failed to win re-election since 1981, when Khamenei became president himself.
That doesn't mean it will be easy, however. He faces three challengers, the strongest among them hard-line cleric Ebrahim Raisi, 56.
Raisi, a law professor and former prosecutor who heads an influential religious foundation with vast business holdings, is seen by many as close to Khamenei. Raisi has even been discussed as a possible successor to him.
Raisi won the support of two major clerical bodies and promised to boost welfare payments to the poor. His populist posture, anti-corruption rhetoric and get-tough reputation - bolstered by his alleged role condemning inmates to death during Iran's 1988 mass execution of thousands of political prisoners - are likely to energize conservative rural and working-class voters.
Mostafa Hashemitaba, a pro-reform figure who previously ran for president in 2001, and Mostafa Mirsalim, a former culture minister, also remain in the race.
Iran's political system combines conservative clerical oversight and state control over large parts of the economy with tightly regulated but still hotly contested elections for key government posts. All candidates for elected office must be vetted, a process that excludes anyone calling for radical change, along with most reformists. No woman has been approved to run for president.
Why there is little electoral about elections in Iran
The president of the Islamic Republic oversees a vast state bureaucracy, is charged with naming cabinet members and other officials to key posts, and plays a significant role in shaping both domestic and foreign policy. But he remains subordinate to the supreme leader, who is chosen by a clerical panel and has the ultimate say over all matters of state.
The race has heated emotions and pushed public discourse in Iran into areas typically untouched in the tightly controlled state media. That includes Rouhani openly criticizing hard-liners and Iran's powerful Revolutionary Guard, a paramilitary force now involved in the war in Syria and the fight against Islamic State militants in neighboring Iraq.
Rouhani also found himself surrounded by angry coal miners who beat and threw rocks at his armored SUV during a visit to a northern mine struck by an explosion earlier this month that killed at least 42 people.
But authorities worry about tempers rising too high, especially after the 2009 disputed re-election of former hard-line President Mahmoud Ahmadinejad that saw unrest, mass arrests and killings. Authorities barred Ahmadinejad from running in Friday's election, and Khamenei days ago warned anyone fomenting unrest "will definitely be slapped in the face."
That hasn't stopped those at Rouhani rallies from shouting for the house-arrested leaders of the 2009's Green Movement. Opposition websites have said Green Movement leaders Mir Hossein Mousavi and Mahdi Karroubi both have endorsed Rouhani against Raisi. Rouhani promised in his 2013 campaign to free the men, but that pledge so far remains unfulfilled.
Mohammad Khatami, another reformist who served as Iran's president from 1997 to 2005, also has endorsed Rouhani.
Supporters of the two leading candidates honked, blared music and held pictures of the hopefuls out of car windows on the traffic-clogged and heavily policed streets of Tehran late into the night Thursday, ignored a ban on campaigning in the final 24 hours before the vote.
In a joint statement, 156 members of the European Parliament criticized the elections saying that they were not free and lack fairness as the opposition has been barred the right to participate, and that "all candidates must show their heartfelt belief in the principle of the Faqih's mandate."
European lawmakers pointed out that the Guardian Council, whose members are appointed by Supreme Leader Ayatollah Ali Khamenei, rejects the eligibility of most candidates.
Ethnic minorities described the elections as a "show off" asserting that successive Iranian governments have spared no effort to strip minorities of their national identity, and leaders from the minorities said that they don't expect this to change whoever is going to be the next president.