Thousands of Israelis marched through east Jerusalem's Old City on Wednesday to commemorate 50 years since the Jewish state seized control of it in the Six-Day War.
More than 60,000 people were expected to take part in the Jerusalem Day event, culminating in celebrations at the Western Wall, police said, up from between 30,000 to 40,000 in previous years. The wall is the holiest site where Jews can pray.
Singing, dancing and waving blue-and-white Israeli flags, crowds of mainly religious Jews marched through the lanes of Palestinian areas, while some crossed the walled Old City's Jewish Quarter.
Police spokesman Micky Rosenfeld said "several hundred" police officers were deployed to keep the peace. A few hundred Israeli peace activists held a protest against what they branded the "March of Hatred".
Ari Fuld, an Israeli participant in the anniversary celebrations, carrying a handgun, said it was a "miraculous day" for Jews. "Today we are celebrating the unification of Jerusalem. Before 1967, there was a wall and Jews could not enter any of the gates, let alone pray at the Western Wall."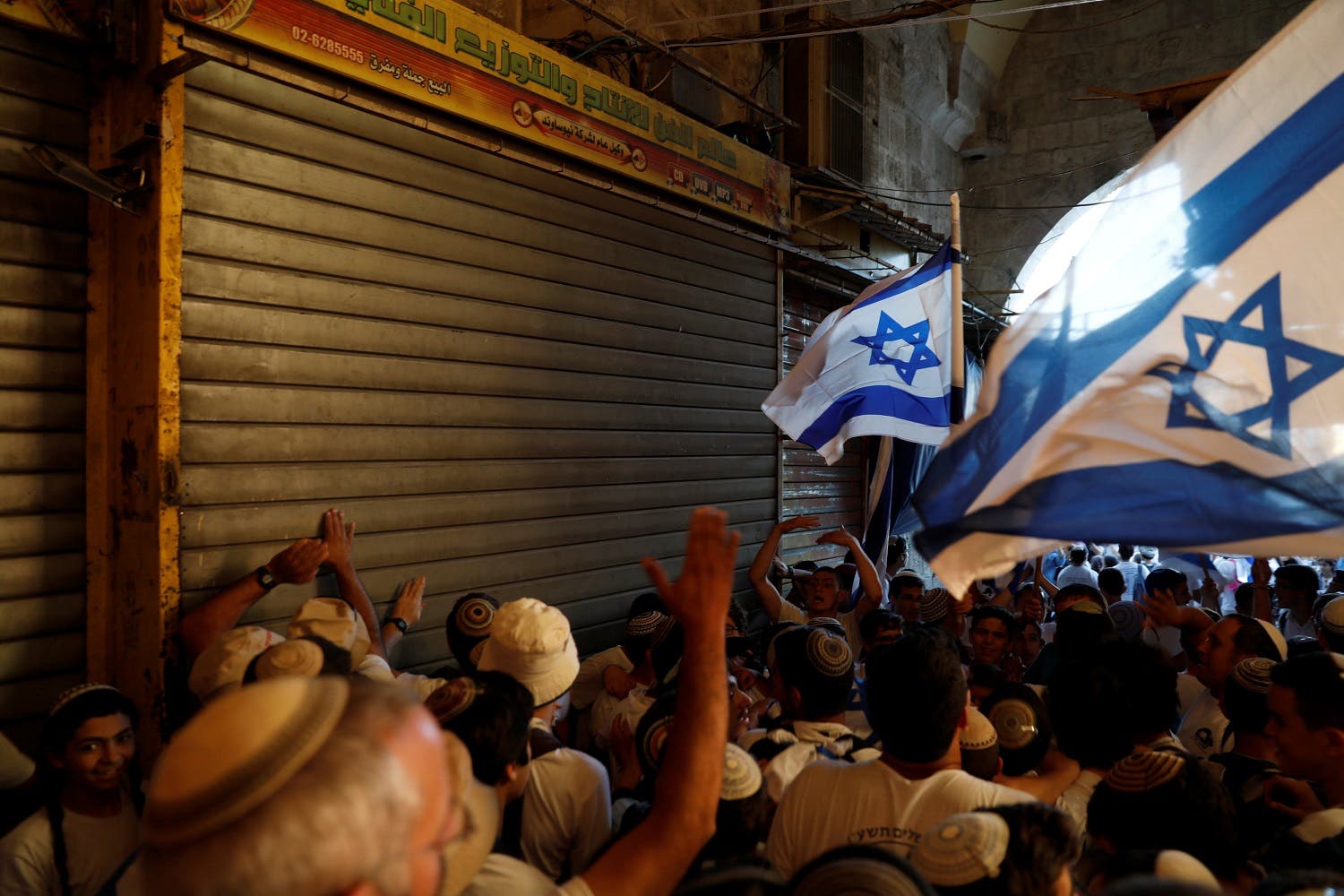 Clashes ahead of the march
Clashes broke out at the Damascus Gate entrance to the Old City ahead of the march as police dispersed Palestinian protesters demanding an end to the occupation of east Jerusalem.
Hossam, a Palestinian teenager who did not want to give his surname, said he wanted to defend the Al-Aqsa mosque compound.
The site is central to the Israeli-Palestinian conflict and was seized from Jordan in the 1967 war. Jews are allowed to visit but not pray there to avoid provoking tensions, but Palestinians fear Israel will seek to assert further control over the site.
"We are here to protect Al-Aqsa. They want to storm Al-Aqsa and we must stop them," Hossam said. Deputy foreign minister Tzipi Hotovely of the hardline Jewish Home party has called on Jews to go up to the flashpoint plateau as part of the celebrations.
Earlier on Wednesday around 10 Jews were arrested for attempting to pray there.