In a statement issued on Thursday by Saudi Arabia, UAE, Egypt and Bahrain, a list of terrorists was released.
The list includes charity organizations as well as 59 names out of which 24 are Egyptians.
According to the statement, most of the people mentioned in the list reside in Qatar while some are in Turkey.
However, all are financed by Qatar and serve their agenda to spread the seeds of sedition, incitement and sabotage in Egypt, the statement said.
They call for the assassination of military and police personnel and they all have a history of imprisonment in cases of violence and have been sentenced to death.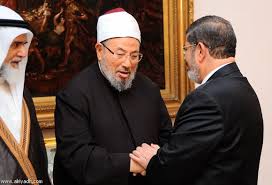 All of those on the list belong to the Muslim Brotherhood and their political party. Those allied with the Muslim Brotherhood, including Assem Abdul Majid and Tariq Al-Zomor, who were previously accused in the case of the assassination of Sadat, and Mohammed Shawki Islamboli brother of Khalid Islambouli, President Mohammed Anwar al-Sadat's assassin.
The list also includes individuals who execute instructions of the group, and communicate it to their cells in Egypt.
The list is as follows:
Yusuf Abdullah al - Qaradawi
Mohamed Ahmed Shawky Islambouli
Tariq Abdulmajood Ibrahim Al Zomor
Mohamed Abdelmaksoud Mohamed Afifi
Mohamed El Saghir Abdel Rahim Mohamed
Wajdi Abdul Hamid Mohammed Ghunaim
Ayman Ahmed Abdel Ghani Hassanein
Assem Abdel Maged Mohamed Mady
Yahya Akil Salman Aqeel
Mohamed Hamada El Sayed Ibrahim
Abdul Rahman Mohammed Shukri Abdulrahman
Hussein Mohamed Reza Ibrahim Yousef
Ahmed Abdel Hafiz Mahmoud Abdel Hadi
Muslim Fouad Tarfan
Ayman Mahmoud Sadeq Rifat
Mohamed Saad Abdel - Naim Ahmed
Mohammed Saad Abdulmutallab Abdo Al Razzaki
Ahmed Fouad Ahmed Gad Beltagy
Ahmed Ragab Ragab Soliman
Karim Mohamed Mohamed Abdel Aziz
Ali Zaki Mohammed Ali
Naji Ibrahim al - Ezouli
Shehata Fathi Hafez Mohammed Suleiman
Mohammed Moharram Fahmy Abu Zeid
Amr Abdel Nasser Abdel - Haq Abdel - Barry
Ali Hassan Ibrahim Abdel - Zaher