Thousands the People's Mujahedin of Iran (PMOI) and National Council of Resistance of Iran (NCRI) supporters are holding various activities locally in Iran days before opposition figures meet in Paris for the annual Gathering of Resistance Conference.
Many have written slogans, installed photographs and posters and distributed leaflets and brochures in support of the gathering, which will be held in Paris on July 1 and is expected to see several hundred European parliamentarians from two dozen countries in attendance to call for regime change in Iran.
"These activities, which are in continuation of the massive Resistance's campaign in boycotting the mullahs' regime's presidential election, emphasize the fact that this regime and all its bands have no legitimacy whatsoever, and the July 1st gathering represents the will of the people of Iran," the secretariat of NCRI said in a statement provided to Al Arabiya English.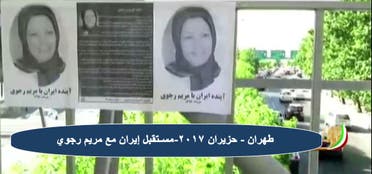 One photo in particular showed posters of Maryam Rajavi, who is the President-elect of National Council of Resistance of Iran since 1993 and has championed for regime change in Iran and campaigned against human rights abuses by the latter.
The event is also expected to attract tens of thousands of Iranian expatriates and their supporters.