The US State Department said on Thursday that Washington plans to explore the possibility of joint mechanisms with Russia to secure stability in Syria during talks this week.
Meanwhile, Russian Foreign Minister Sergei Lavrov said Thursday Moscow was seeking to clarify a claim by his US counterpart that Washington is ready to work together to set up "no-fly zones" in Syria.
"We have asked, but we haven't got an answer to the question of what no-fly zones are envisioned because there has never been any talk of them," Lavrov was quoted as saying by Russian news agencies during a visit to Paris.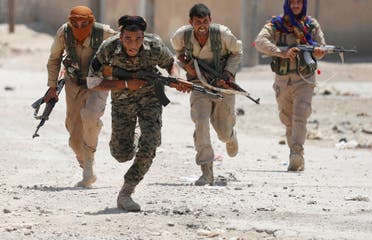 US Secretary of State Rex Tillerson on Wednesday said the US was "prepared to explore the possibility of establishing with Russia joint mechanisms for ensuring stability, including no-fly zones" in Syria.
Tillerson's statement came ahead of the first meeting between leaders Donald Trump and Vladimir Putin Friday on the sidelines of the G20 summit in Hamburg.
Lavrov said that despite the questions over Tillerson's comments, Moscow saw any willingness by the US to cooperate on Syria as a "step in the right direction."
Russia and the US are on opposite sides over the conflict in Syria.
Moscow is staging a bombing campaign in support of Washington's foe President Bashar al-Assad. The US meanwhile is leading an international coalition that has been targeting militants from ISIS, but has angered Russia by striking pro-Assad forces.
Russia is currently pushing a plan along with key players Iran and Turkey to establish four "de-escalation zones" on the ground where air strikes would be halted.
The plan has stuttered as the sides have struggled to agree which forces will police the safe zones.