Security sources revealed the identity of the man accused of Friday's attack in Hurghada; he killed two German tourists and wounded others with a knife.
The sources said the defendant was Abdul Rahman Shams Shaaban from the town of Qaleen in Kafr al-Sheikh; he is 28 years old and graduated from the Faculty of Commerce at al-Azhar University.
They added that the accused entered the public beach in Hurghada and paid the entry fees. He kept on swimming until he reached the shore of a nearby village where he carried out his crime and stabbed the tourists with his knife.
Egyptian media aired on Friday the first photos of the attack on female tourists in a hotel in Hurghada in the Red Sea province.
The Egyptian Interior Ministry reported that a young man stabbed 6 foreign female tourists on Friday in the Egyptian Red Sea resort of Hurghada, killing 2 Germans and injuring 4 others of different nationalities.
Eyewitnesses told Al Arabiya that an unknown young man stabbed foreigners in a village in Hurghada in the Red Sea and jumped off the fence to reach adjacent village and stabbed others again.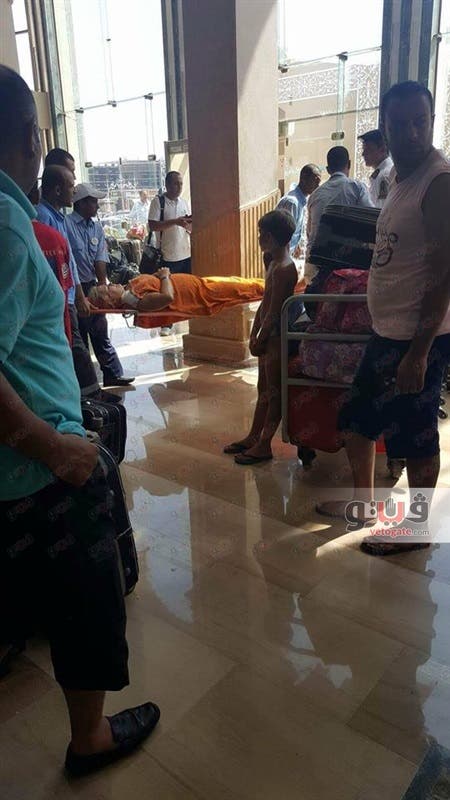 They said that the security forces of the village managed to catch the perpetrator, and he was handed over to the security services that began to investigate with him to know his motives, while ambulances dispatched the injured to hospitals.
The Red Sea police arrested a person who attacked a number of tourists using a knife and the weapon was in his possession, while he was on the beach of a hotel in Hurghada on Friday afternoon.
Preliminary investigations indicated that the accused had infiltrated the beach of a hotel by swimming through a nearby public beach and was able to reach the scene of the crime.
The security official added that he is being interrogated to find out his motives, goals and circumstances in order to take legal action.
Berlin on Saturday said two women who were killed after being stabbed in an Egyptian beach resort were German nationals, confirming earlier reports.
"We can now sadly confirm that two German tourists died in the attack at Hurghada," a foreign ministry statement said.
Friday's attack in the Red Sea resort left four others wounded.
The attacker, who had swum ashore, was arrested and questioned.
"We don't know his motives yet, he could be crazy or perturbed -- it's too early to tell," a senior interior ministry official told AFP.
In January 2016, three tourists in Hurghada were wounded in a stabbing assault by two assailants with apparent ISIS group (ISIS) sympathies.

(With AFP)