After the reported news about the death of ISIS leader, Abu Bakr al-Baghdadi, the organization is expected to shortly announce the name of its new leader, who will succeed Baghdadi, in order to maintain unity among its members, defend its survival and ensure its continuity.
In a brief statement issued by ISIS a few days ago, the organization mourned its dead leader Abu Bakr al-Baghdadi and called on its members to remain united, keep it up in the strongholds and not get dragged behind the sedition.
ISIS is witnessing a critical time, especially after the recent strikes received in Iraq and the successive defeats over the past months, during which it lost most of its leaders.
A few leaders were left, the most important of which is the leader of the organization in Libya Jalaluddin al-Tunisi, who is one of the most important names qualified to succeed Baghdadi.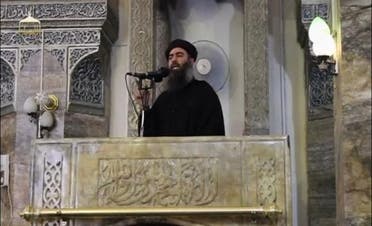 The real name of Jalaluddin al-Tunisi who is from Tunisia as his name suggests, is Mohamed Ben Salem al-Ayouni. He was born in 1982 in the Masaken region of the coastal province of Sousse.
He immigrated to France since the 90s and managed to obtain the French citizenship before returning to Tunisia upon the revolution.
In 2011, he went to Tunisia and then moved to Syria to participate in the war. He announced in 2014 that he joined ISIS after the killing of the commander of the "Ghoraba battalion." He became the battalion's leader and became one of the most important leaders in the organization and very close to Abu Bakr al-Baghdadi. He made his first appearance on the media in a video on the borders between Syria and Iraq in 2014.
After the losses of ISIS in Libya, specifically in the city of Sirte last year, Baghdadi appointed him as the Emir of the organization in Libya because he believed that he was able to win battles and maintain the presence of the organization there, as well as good relations with some of the other extremist groups in North Africa, such as Oqba ibn Nafi who is affiliated with al-Qaeda.
Tunisi was able to convince some of the members there to defect and join ISIS.
Since the North African region is at the top of the regions where ISIS is seeking to expand and survive and with its recent collapse in Iraq, the organization might seek to expand again in African countries starting from Libya, which is still in a state of chaos when it comes to security.
Libya, especially its insecure south, provides a safe haven for insurgents and terrorists in order to operate freely, reorganize, recruit and train members. It also helps in the financing through the smuggling of goods in order to cover up as soon as possible for the recent fall of ISIS in Iraq and Syria.