A former al-Qaeda affiliate took control of the northern Syrian city of Idlib on Sunday two days after agreeing to end fighting with a rebel group, a monitor said.
"Ahrar al-Sham withdrew from the city of Idlib which is now under the control of Hayat Tahrir al-Sham," Rami Abdel Rahman of the Britain-based Syrian Observatory for Human Rights told AFP.
This week saw fierce clashes between Hayat Tahrir al-Sham and Ahrar al-Sham across much of Idlib province, including at the key Bab al-Hawa border crossing with Turkey, before a truce was announced late Friday.
"Hundreds of rebels left the city aboard dozens of vehicles heading towards southern Idlib province," Abdel Rahman said. He said Hayat Tahrir al-Sham (HTS) set up checkpoints across the northwestern city.
The Observatory also reported two loud explosions in Idlib, killing one person and wounding 30, but with no further details.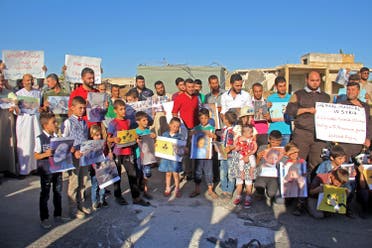 Once allies
HTS and Ahrar al-Sham were once allies and fought alongside each other to capture most of Idlib province from the Syrian government in 2015.
But analysts say growing tensions over the past two months have been exacerbated by HTS fears of a plan to expel the internationally designated "terror" group from the province. Idlib is one of the last Syrian provinces still beyond regime control.
The fall of the city and provincial capital to the militants is symbolic and comes after the Observatory said they captured "more than 31 towns and villages" across the province over the past two days. The bloodless takeover of the towns and villages came after Friday's truce announcement.
The HTS is dominated by the Fateh al-Sham faction, which was previously known as Al-Nusra Front before renouncing its ties to al-Qaeda. The fighting that erupted on Tuesday killed around 100 people including 15 civilians, the Observatory had said on Friday.