The death toll in Egypt's Alexandria train crash incident rises to 49, officials at the scene confirmed to Al Arabiya News Channel, with authorities saying they expect the number to rise as more bodies are pulled from the wreckage.
So far, 123 injured have been confirmed injured after a train coming from Cairo and another coming from Port Said collided in the Khurshid area of Alexandria on Friday.
Egypt's Prime Minister Dr. Sherif Ismail said that hospitals in Alexandria are in high alert to receive the victims of the crash.
The Governor of Alexandria Dr. Mohammed Sultan said that a wrong signal from a railway worker caused the collision.
Egyptian Attorney General Hisham Barakat has confirmed that authorities have opened an urgent investigation into the train crash.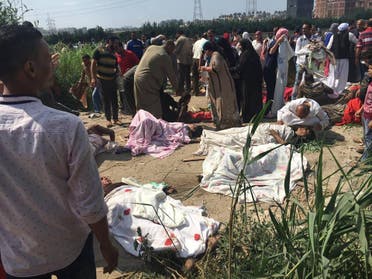 The Egyptian Railways Authority announced the collision of Express train No. 13 traveling from Cairo to Alexandria train No. 571 on route from Port Said to Alexandria near Khurshid station on Cairo-Alexandria line.
As per the statement the collision happened when train 13 hit the rear carriages of train 571.
The statement pointed out that a committee was formed to arrange for liftting the two trains from the crash scene.