Catastrophic flooding triggered by Tropical Storm Harvey inundated Houston on Sunday, forcing residents of the fourth most populous US city to flee their homes in boats or hunker down in anticipation of more days of "unprecedented" rainfall.

Harvey came ashore late on Friday as the most powerful hurricane to hit Texas in more than 50 years and has killed at least two people. The death toll is expected to rise as the storm triggers additional tidal surges and tornadoes, with parts of the region expected to see a year's worth of rainfall in the space of a week.

The storm caused chest-deep flooding on some streets in Houston as rivers and channels overflowed their banks. More than 30 inches (76 cm) of rain had fallen in parts of Houston in the past 48 hours, the National Weather Service said on Sunday, adding that more was on the way.

"What we're seeing is the most devastating flood event in Houston's recorded history. We're seeing levels of rainfall that are unprecedented," said Steve Bowen, chief meteorologist at reinsurance firm Aon Benfield.

Total precipitation could reach 50 inches (127 cm) in some coastal areas of Texas by the end of the week, or the average rainfall for an entire year.

The center of Harvey was still about 125 miles (200 km) from Houston and was forecast to arc slowly toward the city through Wednesday. Harvey was downgraded to a tropical storm on Saturday because its winds had slowed, but days of torrential rain are forecast. Texas Governor Greg Abbott told a news conference that new tornado warnings were expected later on Sunday.

President Donald Trump plans to go to Texas on Tuesday to survey damage from the storm, a White House spokeswoman said on Sunday.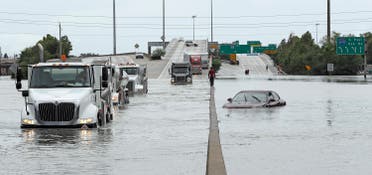 Refineries, offshore platforms closed
The storm struck at the heart of the country's oil and gas industry, forcing operators to close several refineries and evacuate and close offshore platforms.

The Gulf is home to about nearly half of the nation's refining capacity, and the reduced supply could affect gasoline supplies across the US Southeast and other parts of the country. Shutdowns extended from Corpus Christi to the refining hub of Houston, including Exxon's Baytown refinery, the second largest US refinery.

Gasoline futures rose as much as 7 percent in early trading on Sunday evening, and heating oil futures, a proxy for distillates like diesel fuel, were up as much as 3 percent, as supplies are expected to be curtailed.

The swift rise of floodwaters surprised authorities, and Houston residents with boats were asked to help with rescues. Emergency services told the city's 2.3 million inhabitants to climb onto the roofs of houses, if necessary, to escape the water. People in Houston and other areas of Texas were asked not to leave their homes, even if they flooded, as roads were impassable.

"The water was right at our door," said Jasmine Melendez, a 23-year-old Houston mother of three, including a week-old infant. "We were also worried about the kids, especially the baby."

Melendez was sheltering at the downtown George Brown Convention Center, which was filled with hundreds of people who showed up for water, food and baby supplies. Some people were being brought to the center in city dump trucks.