The Iraqi air force and the US-led coalition have stepped up a campaign of airstrikes on the ISIS group-held town of Hawija ahead of a planned ground assault there, according to Iraq's minister of defense on Saturday.
Iraqi forces are pushing IS out of the remaining pockets of territory the group holds in the country after forces backed by the US-led coalition retook Iraq's second largest city of Mosul in July.
"There are large operations underway ahead of the liberation of Hawija and surrounding areas," Iraqi Defense Minister Erfan al-Hayali told The Associated Press, explaining that his forces were working closely with Iraqi Kurdish forces known as the Peshmerga as well as the coalition.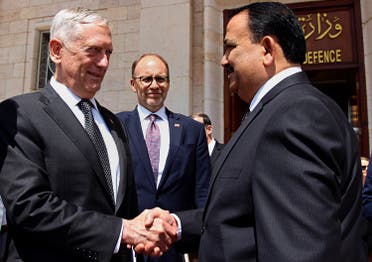 Last month, the Iraqi military command overseeing the ISIS fight declared victory in Tal Afar, west of Mosul and announced Hawija, 240 kilometers north of Baghdad, would be the next battle against the extremists.
The stepped-up coalition strikes are targeting ISIS territory in western Anbar as well as Hawija, said US Army Colonel Ryan Dillon, coalition spokesman.
Simultaneous attacks
"Coming off of their victory in Tal Afar (Iraqi security forces) will use a lot of the same techniques," Dillon said. "Simultaneous attacks proved to be very successful as did operations ahead of time to let civilians know what to do."
Defense Minister al-Hayali said his forces began radio broadcasts and leaflet drops on Hawija warning civilians of the planned push.
The United Nations said the operation to retake Tal Afar forced some 20,000 people to flee, according to counts by Iraqi authorities. When the fight for Hawija begins, the UN estimates some 60,000 people will be affected.