A meet organized in Geneva on Wednesday, September 20, has highlighted the cases of enforced disappearances in Iran.
It brought together representatives of ethnic minorities to discuss Iran's violations of its citizens' fundamental rights and enforced disappearance in particular, as a crime against humanity.
A statement released later said that the event – "Enforced Disappearances in Iran and the Assault on Fundamental Rights" – was organized by the Nonviolent Radical Party, Transnational and Transparty (NPRTT) in cooperation with the Unrepresented Nations and Peoples Organization (UNPO).
Also read: Wife of Princeton scholar jailed in Iran calls on US to do more to free him
The event took place on the sidelines of the 36th regular session of United Nation Human Rights Council (HRC). Fernando Burges, program manager of UNPO discussed the challenges his organization faces while advocating the right of ethnic minorities with EU politicians who work with Iran.
"Whenever we are to discuss Iran we highlight the fact that Iran is a multi-ethnic country and not a Persian state. Currently 4 ethnic monitors from Iran are members of UNPO, the Ahwazi Arabs, Kurds, Azerbaijani Turks and Baluchies," he said.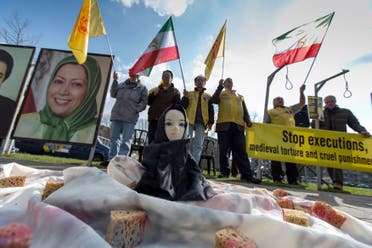 Parallel security forces
Mona Silavi from Democratic Solidarity Party of Al-Ahwaz discussed the role of parallel security forces and institutions such as IRGC in escalation of enforced disappearances. Silavi added that since 2004 Iranian government has been delaying the country visit of the UN Working Group on Involuntary and Enforced Disappearance (WGEID) and Iranian government refuses to declare the fate of 520 reported victims.
In the statement, Silavi said that the actual number is estimated to be higher. However, they are not reported due to restrictions imposed on the families by the Iranian government. One of these victims is her own father Yousef Silavi disappeared in November 2009.
Evin Prison: The Iranian regime's notorious torture factory
Baban Eliassi from Democratic Party of Iranian Kurdistan (PDKI) and member of the committee for support of Kurdish political prisoners in Iranian Kurdistan highlighted the deterioration of human rights and the crackdown on the recent demonstrations in Kurdistan which were held as a sign of protest for the shooting of Kurdish "koolbars" (border carriers) by the Iranian border police.
Peshko Khosravi representative of Komala Party of Iranian Kurdistan focused particularly on the case of Ramin Hossein Panahi, one of the members of Komala party who was shot by Islamic Revolutionary Guard corps and later disappeared. Khosravi added that 20 members of Panahi's family were arrested following his disappearance.