Two weeks after the murder of the Syrian opposition activist Orouba Barakat and her daughter Hala, their killer has finally confessed.
Ahmed Barakat, their Syrian relative, was shortly arrested in Istanbul on suspicion of killing his cousins and has now revealed that he was responsible for the crime.
Standing before Turkey's Magistrate's Court and the penalty judge, the accused said that: "I am the one who killed Orouba and Hala Barakat, I admit it. They are both my relatives. Orouba is my father's cousin".
"When I was in Syria, my father and my older brother were killed in the war. I decided to escape in order to get rid of the pressure that was exerted on me to join the forces of the Syrian regime. Meanwhile, Orouba told me that I could come see her if I'm ever in Turkey," he said. "So I came to Turkey illegally and started working with Orouba."
'She didn't give me my salary'
The killer claims that she Ourouba did not give him a promised salary despite hiring him to work for her.
"After I've quit, Orouba invited me to her house to pay me. I went to see her that night (the night of the crime) in her house. In the morning, I asked for my money. She said she gave the money to someone else and she had no money left. I got angry and started yelling at her face. She slapped me so I pushed her," he told the court.
"Before I left the house, Orouba brought a knife and pointed it at me, but I took it from her and killed her. Her daughter, Hala, came out of the bathroom. She started screaming when she saw her mother soaked in blood. I asked her to stop but she didn't comply so I killed her too. I left the knife in the kitchen and returned to Bursa (south of Istanbul)," he said.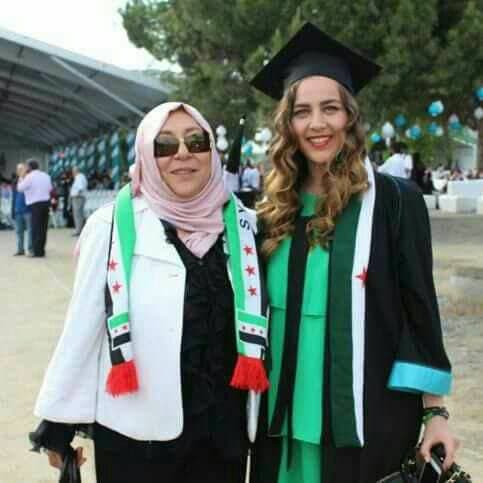 Ahmed denied that he was paid by any party to commit the crime, saying: "I regret it." After the judge heard his confessions, Ahmed was held in custody.
On October 22nd, Turkish police found the bodies of Syrian opposition activist Orouba and her 22-year-old journalist daughter, Hala, in their apartment in the Uskudar on the Asian region of Istanbul. Local media at the time, as well as Syrian activists, said the victims had been stabbed in the neck. Shatha, the sister of Orouba, accused the Syrian regime of assassinating them.
Ourouba was a critical voice against the regime of Syrian President Bashar al-Assad. She was a former member of a Syrian opposition group and active in helping Syrian refugees in Turkey.
Hala, a natural born American citizen, worked as a journalist for TRT World before joining pro-Syrian opposition news website, Orient Net English.