A row has broken out over the use of the Kurdish flag rather than Iraq's colors at former president Jalal Talabani's funeral, at a time of Iraqi-Kurdish tensions.
Social media is abuzz with chatter over the choice of flag at Friday's funeral in Sulaimaniyah, Talabani's fiefdom in the autonomous Kurdish region of northern Iraq.
Central government figures and Iraqi Kurdish leaders including long-time rival Massoud Barzani attended the funeral ceremony in honor of Iraq's first non-Arab president, who died in Germany on Tuesday aged 83.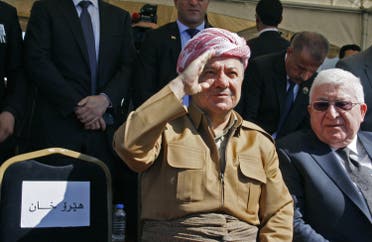 The funeral of Talabani, who served as president from 2005 to 2014 and was seen as a unifying force in Iraq, came barely a week after an Iraqi Kurdish independence vote that has deepened divisions between the Kurdish region and Baghdad.
Surprise
Ala Talabani, a legislator and a niece of the late president, said an Iraqi flag had been brought for the funeral. "We were surprised that it was no longer there," she said.
ALSO READ: Dignitaries gather in Kurd city for Iraq ex-president Talabani's funeral
She was also not expecting the funeral to have been organized by Barzani's Iraqi Kurdish leadership rather than her uncle's own Patriotic Union of Kurdistan party.

A Shiite Arab political leader, Ammar al-Hakim, called for an "apology" over the absence of the Iraqi flag.
Going further, Karim al-Nuri, spokesman for the powerful Iran-backed Badr paramilitary organization, condemned what he called "a fault" committed by Barzani and his wife.
"They did it on purpose... They are not foolish enough to imagine they can keep insulting Iraq without us reacting and without all this leading us into dangerous waters," he said.