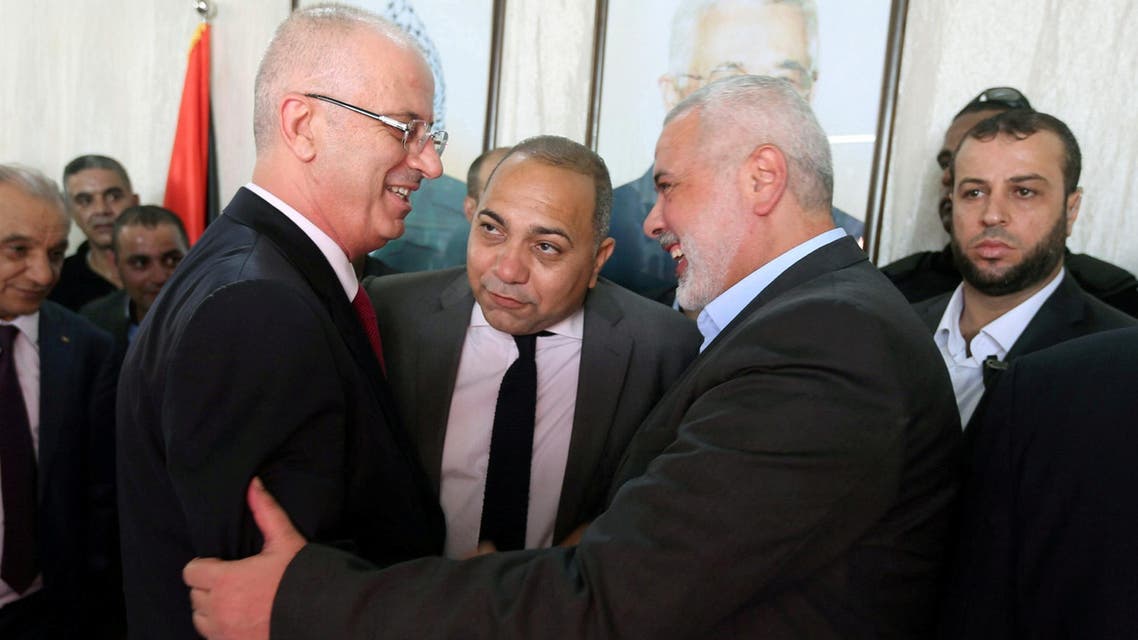 Fatah spokesman: Judiciary, security key issues in talks with Hamas in Cairo
A Palestinian dialogue aimed at unifying ranks between Fatah and Hamas began behind closed doors on Tuesday in Cairo where upcoming elections, the judiciary and security were among key issues discussed, according to senior Fatah spokesperson.
Fatah spokesman Osama al-Qawasmi told Al Arabiya that they baseline issues were aimed at "enabling Palestinian national reconciliation" efforts.
"The meeting will discuss the issues of the elections, the judiciary, the security, and enabling the Palestinian national reconciliation government to work in the Gaza Strip," Qawasmi said, adding that the Palestinian President Mahmoud Abbas was clear in instruction to Fatah representatives on their flexibility to ensure the success of the meeting and activate the Egyptian role in the reconciliation efforts.
The talks follow a key breakthrough last week when Palestinian Authority prime minister Rami Hamdallah visited Hamas-run Gaza for the first time since 2015 and his ministers officially took control of government departments there.
RELATED: Amid push for Palestinian unity, are Egypt and Hamas friends or foes?
The Fatah delegation includes Azzam al-Ahmad, a member of the Central Committee, Ruhi Fattouh, Hussein al-Sheikh, Ahmed Halles, Major General Majid Faraj, and Deputy Secretary of the Revolutionary Council of the Movement Fayez Abu Eita.
Qawasmi said that during the meeting, all aspects of enabling the Al-Wefaq (reconciliation) government to work in the Gaza Strip and completely remove any obstacles will be discussed thoroughly. He expressed his optimism for the success of the Cairo dialogue and his hope that the matters will be resolved positively.
On the other hand, Azzam al-Ahmad, the head of the Fatah delegation, said that the elections, the judiciary, the security, the PLO, the political vision, and the Palestinian issue would be discussed. He stressed that the decision of peace and war and the form of resistance to which everyone is committed is a national decision rather than a sectarian one.
The Islamists of Hamas and the West Bank-based Fatah movement of Palestinian president Mahmud Abbas have been at odds since they fought a near civil war in 2007.
The split has complicated any potential peace negotiations with Israel.
Multiple previous attempts at reconciliation have failed but the latest Egyptian-led push received a major boost last month when Hamas agreed to cede civil power in Gaza.