Egyptian President Abdel Fattah al-Sisi visited an officer who was detained by terrorists in recent attack and praised his heroism.
Captain Mohammed al-Hayes, who was detained by terrorists during the Oasis attack 10 days ago was freed on Tuesday and treated of his injuries.
Sisi arrived at the hospital where the officer was taken for treatment of a foot injury sustained during confrontations with militant groups.
The Egyptian president praised the officer for his valor and heroism, telling him that Egypt does not forget its children.
The Egyptian officer was held during the military raids on the Oasis region in the Western Desert, which took place last Friday, during which 16 policemen were killed.
Egypt's air force killed a large number of militants responsible for the deadly attack on a police convoy 10 days ago, the military said on Tuesday following an air raid on the militant's base.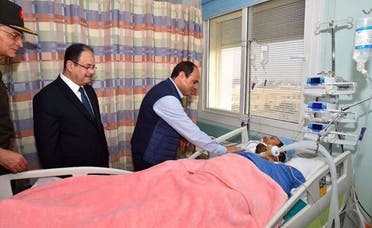 The raid, the second in a week targeting militants behind the October 21 attack, was coordinated with police and based on intelligence about the location of their hideout, the military statement said.
Three security sources said at the time that at least 52 police officers and conscripts were killed on October 21 when their patrol came under attack, but the interior ministry refuted that figure the next day and said only 16 officers had been killed.
President Abdel Fattah al-Sisi appointed a new military chief of staff a week after the militants struck and the Interior Ministry dismissed several high-ranking officials.
(With Reuters)